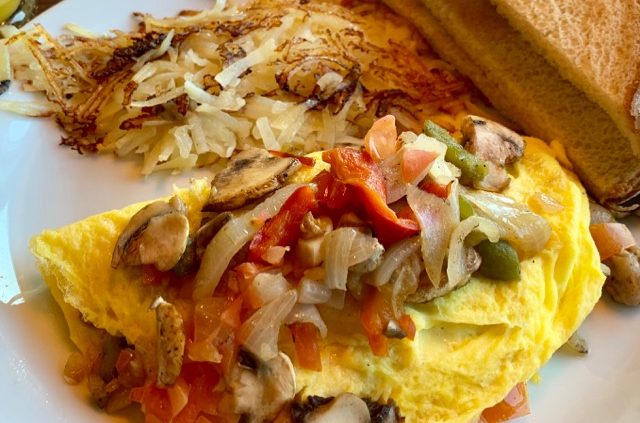 Review No. 182: Denny's
900 Crain Drive
(501) 504-6965
82.1 percent finished reviewing Conway restaurants
The Situation
She Said: Weaning ourselves off the holiday + travel food bacchanalia has not been easy, so on a recent Saturday when He Said had an all-day rehearsal for Red Curtain Theater's Into the Woods, we decided we'd throw ourselves a food bone and enjoy a diner breakfast. What better way to do that than cruise down to Conway's shiny new Denny's?
Denny's in Conway has special meaning to us, as the old Denny's on Oak Street was the first restaurant we ate in together when we moved here in 2003. We walked over to the former iteration from our hotel, and I remember feeling very self-conscious as a Yankee, as if I were in a foreign country and would stick out too much with my lack of accent, so I stayed very quiet and to myself. I also had the strange reflex to speak Czech when in public, too. These days, I'm much more comfortable in my "new home," but Denny's is still a walk down memory lane.
He Said: Denny's is one of the larger restaurant chains in the world, with some 1,700 restaurants throughout the United States and in a dozen or so foreign countries. It was founded in California in 1953, and in 1963 started franchising restaurants. Denny's is now headquartered in South Carolina. Close to my own heart, Denny's has been working with the Humane Society of the United States for more than 10 years and works with its suppliers to ensure that animals are treated humanely.
Ambience:
She Said: This Denny's is danged shiny! It's brand new, and while it has the diner feel, it also has a huge photographic mural wall of the Arkansas countryside and a light-bulb Conway sign in one area. It feels like a posh Denny's. You're greeted by a hostess at the cash register when you enter and seated.
He Said: Yes, there's a clean and comfortable atmosphere here.
Drinks
She Said: We came for breakfast, so I had coffee with cream and water. The coffee was strong-ish. I did have a cup of espresso when I got home, just to make sure I was awake.
He Said: I had orange juice, which I believe was Minute Maid, if that's your idea of a good time.
Food
She Said: I struggled with choice at Denny's, mostly because the combinations were a big puzzle, and I was looking for the exact roster of breakfast favorites. The "slams" mostly include two meats—sausage and bacon—which is too much for me. The build-your-own slam does not allow waffles as an option (I asked), but the waffles breakfast did not include the things I wanted, so I went for a berry pancakes breakfast, which included bacon (I changed it to turkey bacon), hash browns and two eggs cooked to order (over medium, please).
First, the bacon was no bueno; I was distracted by ordering turkey bacon instead of bacon-bacon, so I forgot to stipulate extra crispy. This was like sautéed bologna. Blech. What a waste. Crispy bacon is the only way to go, pork or turkey. Moving on to better times: The pancakes had blueberries in the batter, and lots of fresh banana and strawberry slices on top, and they were good, particularly the fresh fruit. I ate about two-thirds of the serving. It was a treat, but didn't feel junkie or decadent because of the fruit. The fried eggs were more on the "easy" side than medium, but I like that, and I like to soak up the egg yolk with pancake and hash browns, so it was good. The hash browns were pretty much perfect: a crispy top layer, with a satisfying firm underlayer of salted potato goodness. I would order this breakfast again.
He Said: I decided to go with the "build your own omelet" option. I asked for an egg white omelet with pepper and onions, mushrooms, tomatoes and cheddar cheese. This option comes with hash browns and toast, with a choice of white, wheat, sourdough or pancake (!). I opted for the sourdough.
The omelet was quite good, though I'm pretty sure it wasn't egg white but rather the whole eggs. That increases the fat content, of course, which I was trying to keep down, but I also didn't have time to send it back so I just ate it. And it was good, as you might expect. I also didn't feel bad about eating it because Denny's does use cage-free eggs, they say. I have to agree with She Said about the hash browns: they were done just right. The sourdough bread was also good. It had an unusually generous amount of butter on it, which also jacked up my fat content, but sure tasted good. I would say that my breakfast was quite tasty, though fattier than I bargained for, so I made plans to eat pretty light the rest of the day.
Service
She Said:Service was fine. Our waitress was focused and efficient. She was busy. We did wait awhile for our food, though, almost half an hour, but He Said reminded me that no Denny's has ever been speedy.
He Said:She was busy but efficient. Not sure whether to blame her or the cook for the full egg instead of egg-white omelet, though since she did repeat my order to me when she took it, I'm inclined t believe the cook got it wrong. In any case, you'll be glad to know it didn't affect her tip.
What We Got and What We Paid: One berry pancakes breakfast, coffee, one build-your-own omelet with hash browns and toast, and a glass of orange juice, all for $27.07.
Elapsed Time from Our Arrival to Food Arrival: 26 minutes, with no waiting for seating.
Rating:
She Said: Denny's offers diner staples in a shiny new restaurant, packaged in popular combinations.
He Said:This is one of the better chain diners around. Certainly a lot of choice for brunch.
Is Denny's good at what it's good for? If you like breakfast with lots of options with time to wait, this is the place for you!
NOW AVAILABLE!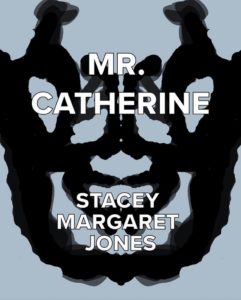 Stacey Margaret Jones's novel, Mr. Catherine, is available online from the following sellers (ebook only through June 24, ebook and paperback as of June 25, 2019): Amazon, Barnes & Noble, Google Play and Apple Books.
Where is Catherine? Catherine has gone missing, a year after confessing to having an affair. Her husband, a marriage and family therapist, hides her infidelity from the police to protect her reputation—and to shelter his pride.
As the secrets begin to pile up, Mr. Catherine, the unnamed husband of the missing woman, is plunged into a world of underground dealings, kidnappers, ex-lovers and drug running in Little Rock, Arkansas, all while grappling with his part in the highs and lows of the life they led together.
With each passing day, a sleepless Mr. Catherine grows more frantic, drinking and popping pills, which stir up painful visions and remembrances that hold a mirror up to the narrator as he comes to terms with his own emotional betrayals.
Mr. Catherine is a fast-paced domestic noir that explores the dangerous secrets between a husband and a wife, as well as a deeper meditation on marriage, connection and honesty.
Comments
comments
http://jayruud.com/wp-content/uploads/2020/01/IMG_3518.jpg
432
640
Jay Ruud
http://jayruud.com/wp-content/uploads/2014/08/JayRuud.png
Jay Ruud
2020-01-06 10:43:59
2020-01-06 10:43:59
Denny's