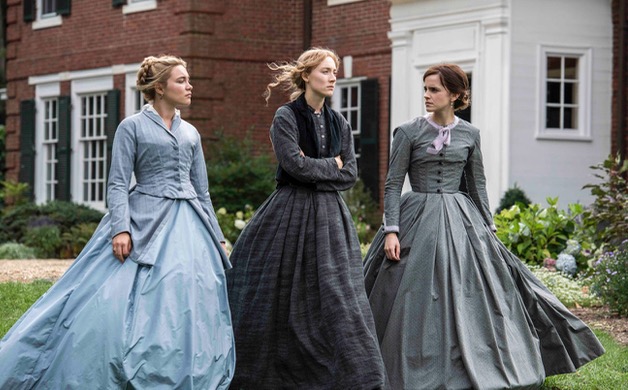 Little Women
Greta Gerwig (2019)
Yes, I know that everyone must have been expecting Star Wars in this spot, but hey, everything that could possibly be said about Star Wars has no doubt already been said and yes, it was fine, though kind of predictable, formulaic and unsurprising, but a decent ending to an epic mythic story 42 years in the making. I didn't feel like adding my voice to the great cloud of witnesses already holding forth about The Rise of Skywalker, and besides, the best movie I've seen lately isn't Star Wars, it's Little Women.
It could be argued that Greta Gerwig's task in rebooting a classic story already told in six previous films (not to mention countless TV productions, three stage musicals, and an opera) was, in its own way, as difficult as J.J. Abrams' in trying to find a satisfying end to the most admired blockbuster series in the history of film. Of course, Gerwig's film makes an appropriate homage to the 150th anniversary of the beloved novel's publication, making up for last year's ill-advised and much maligned "updated" version of the story by Clare Niederpruem. But it also outdoes the critically acclaimed Gillian Armstrong version of 1994 that featured Winona Ryder as Jo March backed by a star-studded cast and even, I would argue, George Cukor's much beloved 1933 version with Katharine Hepburn as Jo. Gerwig's film is quite simply the best film version yet made of Alcott's classic novel as well as being one of the best films of the year.
Last year, not a single woman was nominated for a Best Director Oscar (not even Marielle Heller, despite a plethora of other nominations for Can You Ever Forgive Me?), and in 2018, Gerwig herself was the sole female nominee for Lady Bird. This year, Heller again could be a candidate for a nomination for A Beautiful Day in the Neighborhood, or perhaps the Academy might honor Olivia Wilde for the very smart Booksmart.But who am I kidding? We all know that those efforts are almost certain to be overlooked. But it would be a full-fledged travesty if Gerwig is not nominated this year for this film. And it's really about time a woman won this award, and none has deserved it more than Greta Gerwig for Little Women.
Any film rises or falls with the actors, and this is a film blessed with myriad strong performances. The film is anchored by Saoirse Ronan (Gerwig's lead from Lady Bird), who at 25 may be looking at a fourth Oscar nomination for her fully developed Jo March, making much of the semi-autobiographical elements of the role, turning her into a driven, independent woman while avoiding making her an anachronism. Emma Watson (always the most talented of the Harry Potter children) brings the usually tepid Meg to life, managing not to make her a nondescript also-ran to Jo, and young Eliza Scanlen (Sharp Objects) as too-good-to-live Beth manages to make the ill-fated young pianist something more human than saintly. Most remarkable of all is probably Florence Pugh (Midsommar) as the complex Amy, usually portrayed as the jealous little brat of a sister whom Jo eventually needs to forgive. In this adaptation she is made sympathetic and completely understandable by Gerwig's remarkable script, which beefs up Amy's relationship with Laurie in Europe and makes their eventual marriage seem more comprehensible and even inevitable than Alcott's novel did. Another curious thing about this version is how international the cast is playing  the four all-American March sisters: Scanlen is Australian, Watson and Pugh are Brits. Ronan was born in the Bronx, but her parents were Irish.
Gerwig's script also manages to make secondary characters much more substantial than previous films have done: Laura Dern as Marmee is far more than simply a vaguely adult version of the saintly Beth ("I'm angry nearly every day of my life," she memorably declares), and Bob Odenkirk (Better Call Saul) as the girls' father has a lot more to do than walk in and say "I'm home" at the end. Chris Cooper (Adaptation) breathes life into the usually static role of neighbor Mr. Laurence, who gives Beth his piano. The biggest surprise among the minor characters is seeing Meryl Streep in the usually thankless role of Aunt March. Usually played as a one-dimensional comic stereotype, the rich old relative who promises Jo a trip with her to Europe but ends up taking Amy; in the hands of Gerwig and Streep, Aunt March becomes an unmarried woman in charge of her own life at a time when such a role was almost unheard of for women. She is someone who knows that money is the only assurance for a woman against societal pressures. "You must marry well. Save your family," she tells Amy. But she provides Jo an alternative lifestyle to contemplate by her very existence.
In the role of Laurie, the March sisters' neighbor and childhood friend, who loves Jo and (spoiler alert!) marries Amy, Gerwig has cast Ronan's co-star from Lady Bird, Timothee Chalamet. My first reaction was that Chalamet was the one weak link in the casting: He seemed too slight and immature a figure to serve as the object of Jo's romantic inclinations. But then it seemed to be that this was exactly right: Laurie is wrong for Jo in many ways, and is essentially an embodiment of her own childhood. In this version, it takes Amy to rouse him from a self-absorbed dissipation and make a man of him.
In addition to the cast, it is probably already evident that Gerwig's screen play is another huge part of this film's success. In addition to the female-empowering touches already noted, the film also goes beyond the letter of the novel in making the film not only a film of the book, but also a film about the book, as in a brilliant twist at the end (not really a spoiler since it is evident from the start), author Jo March crosses the fictional divide and also becomes the author of the book Little Women. The most effective aspect of the script, though, is Gerwig's abandonment of the chronological narrative of the book, beginning not with the book's "how can we have Christmas without presents" opening but rather with the adult Jo, trying to make a living as a writer in New York, trying to sell a story to an editor, Mr. Dashwood (an appropriately skeptical Tracy Letts), before flashing back to events seven years earlier with her sisters. The film continually moves from the present, in which Beth is dying and Amy is off to Europe with Aunt March and Laurie, to flashbacks from the past with Beth and Amy and Laurie, which often parallel present events, or put them into perspective in a startling or moving way. One thing this approach does is allow us to meet Professor Bhaer (Louis Garrel from An Officer and a Spy) before we are ever introduced to Laurie—a strategy that enables us to see Bhaer (in the novel an older, overweight German, but here an attractive young Frenchman) before we ever meet Laurie, thereby making it clear from the start how much more suitable Bhaer is to be Jo's suitor.
And then there's the look of the film. From the beauties of a rural New England autumn to the classic architecture of a Parisian vacation, the softly lit and beautifully framed backgrounds turn every scene in the film into a nineteenth-century Impressionist landscape. Cinematographer Yorick Le Saux is a large part of the success of this film, which was shot on location in Concord, Massachusetts, on 35mm film—a rarity in today's digital market, but an approach that makes this film one of the best-looking films of the year.
As you can probably tell, I can't praise this movie enough. If you think you've seen enough versions of this story already and can't imagine what could possibly be new about another one, think again, you need to see this film. If you think you're too "macho" to go see a "chick" film, get your head out of your ass-umptions in your mindless CGI digital world and go see a film that will actually mean something to you. Four Shakespeares for this one.
NOW AVAILABLE:
"The Knight of the Cart," fifth novel in my Merlin Mysteries series, is now available from the publisher, Encircle Publishing, at https://encirclepub.com/product/theknightofthecart/
You can also order from Amazon at
https://www.amazon.com/Knight-Cart-MERLIN-MYS…/…/ref=sr_1_1…
OR an electronic version from Barnes and Noble at
https://www.barnesandnoble.com/w/the-knight-of-…/1133349679…
Here's what the book is about:
The embittered Sir Meliagaunt is overlooked by King Arthur when a group of new knights, including Gildas of Cornwall, are appointed to the Round Table. In an ill-conceived attempt to catch Arthur's notice, Meliagaunt kidnaps Queen Guinevere and much of her household from a spring picnic and carries them off to his fortified castle of Gorre, hoping to force one of Arthur's greatest knights to fight him in order to rescue the queen. Sir Lancelot follows the kidnappers, and when his horse is shot from under him, he risks his reputation when he pursues them in a cart used for transporting prisoners. But after Meliagaunt accuses the queen of adultery and demands a trial by combat to prove his charge, Lancelot, too, disappears, and Merlin and the newly-knighted Sir Gildas are called into action to find Lancelot and bring him back to Camelot in time to save the queen from the stake. Now Gildas finds himself locked in a life-and-death battle to save Lancelot and the young girl Guinevere has chosen for his bride.
Comments
comments
http://jayruud.com/wp-content/uploads/2019/12/ce247c54-5356-4a12-a878-f2fcf19ef618-little-women-epk-DF-02199_02189_02180_r_rgb.jpg
390
628
Jay Ruud
http://jayruud.com/wp-content/uploads/2014/08/JayRuud.png
Jay Ruud
2019-12-31 18:30:25
2019-12-31 18:30:25
Little Women