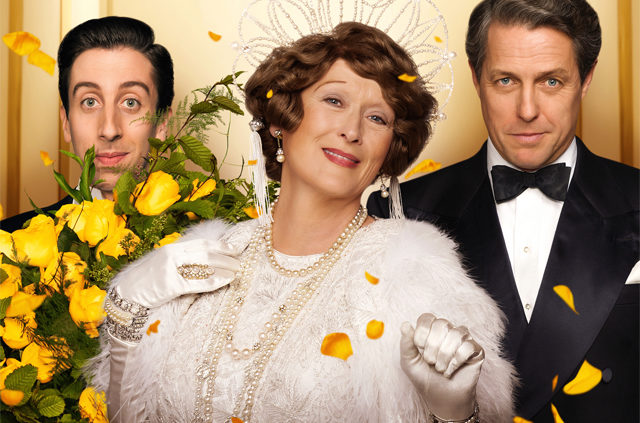 Florence Foster Jenkins
Stephen Frears (2016)
Meryl Streep's annual entry into the Oscar sweepstakes is perhaps the quirkiest comedy/drama of the summer, the story of a rich New York heiress who is a big supporter of the arts but who wants to be a classical singer, despite the obvious fact that she has no vocal talent at all—a reality to which she seems oblivious.
Before I go on, I'm going to add that I attended this film at Breckinridge in West Little Rock. I would really have liked to have seen it at the Cinemark Towne Centre theater in Conway, just a mile from my house, but the fact is the movie has not come there. And there seems to be no plan to bring it. Nor is this the first time this has happened this summer. I'm not talking about independent, limited release films, like Woody Allen's new movie Café Society at Riverdale, or some of the smaller more obscure movies (like Southside With You) that you might only see at Rave. I'm talking about major pictures (Hell or High Water?) that are essentially everywhere—films that they are getting at Breckinridge, which earlier in the summer could be counted on to have precisely the same selection as Conway every week. Cinemark seems to have no trouble sending us the absolute worst movies of the year—you can see Mechanic Resurrection any time you want this week, and Ben-Hur and Suicide Squad are also still on tap.
So what happened? The change was sudden and precipitous. Has Cinemark recently reexamined its audience and decided to place Conway in a category of unsophisticated moviegoers? So this city with three colleges is now judged to be uninterested in serious films and only interested in kids' movies and the most popular and mindless entertainments? Is it bread and circuses for us from now on? I'd really like to get some kind of response from Cinemark on that.
But I digress. Let's talk about this quirky movie. Streep's character is based on a real historical figure, a rich and generous socialite in New York in the 1940s, who was a great supporter of the arts, but also had the somewhat misguided desire to sing the great operatic arias before New York audiences. To have any success in such an endeavor, one would need precisely what Florence Foster Jenkins had: a husband working behind the scenes to make sure that a) the only people who attend the concerts are friends of the performer (particularly older folks who are losing their hearing) and journalists who have been paid off and will write positive reviews, and b) the lady is surrounded by sycophants who, for the sake of her money or patronage, will never tell how bad she really is. In the film, that job falls to Florence's husband, St. Clair Bayfield (Hugh Grant).
Bayfield is a British actor with an undistinguished career who seems to have given up his own delusions to help realize Florence's (he says at one point that he is "free from the tyranny of ambition"), and he is at great pains to make her dreams come true, buy off whoever he needs to, pack her small performance venues with indiscriminating—or toadying—fans. But when a vanity recording made by Florence on a whim begins to be played on the radio and becomes popular with servicemen who find it hilarious, Florence decides to give a concert at Carnegie Hall and to give away a thousand tickets to men in uniform, as a tribute to the war effort in 1944. It is a situation that even Bayfield cannot control completely, since he knows the soldiers will certainly make a joke of Florence's performance and he will not be able to keep unbribed media away from the concert. But he certainly tries, even to the point of buying out every copy of an offending review anywhere in the neighborhood the morning after the concert.
Grant is brilliant in the role. He has all of the charming authority undergirded by a frenetic nervous energy bordering on panic that he displayed in his memorable performance in Love Actually. Even when we discover that he keeps a young mistress, Kathleen (Rebecca Ferguson), with whom he spends his nights in a separate apartment (paid for by Florence), the mitigating circumstances allow us to remain sympathetic with him.
Streep is, of course, Streep, and therefore portrays the somewhat batty Florence convincingly and honestly, without a note of irony or condescension in the performance, and manages, with the help of Nicholas Martin's screenplay, to carry the character and the movie beyond the one-joke monotony it threatens to become. Florence was a skilled musician at one point; what happened to her is too much of a spoiler to reveal, but it helps move us away from laughter we, and everyone else in the movie, are moved to upon hearing her voice. We also learn that Florence at one time acted as a kind of a buffer for Bayfield's own career hiding bad reviews from him in a way that ironically foreshadows his efforts on her behalf.
But there is an important third party to this bubble of self-deception around Florence and her music, and that is her accompanying pianist, Cosmé McMoon, played with bemused frustration by Simon Helberg (best-known for his role as Howard Wolowitz on TV's Big Bang Theory). In many ways, Helberg serves the role of chorus or audience surrogate in the film. Like him, we are ushered into Florence's apartments in order to accompany her as she resumes her voice lessons with Metropolitan Opera vocal coach Carlo Edwards (David Haig). Like him, our reaction as the first strains of what for lack of a better term we'll call music is at first disbelief, humor, and bewilderment, and Frears lets the camera stay on Helberg's face for the duration as every reaction from horror to awe sweeps over it in the space of a few measures, while Haig drops such ambiguous comments as "You've never sounded better," and "You'll never be more ready." Like McMoon, we don't really know quite what to make of all this, but are deeply amused and are getting enough out of it (in McMoon's case, that's $150 per week—an exorbitant salary for 1944, but as Florence tells him "I'm not destitute!") to stick around and see how it plays out. And like McMoon, we too grow to form an attachment and even an affection for Florence the better we get to know her.
The one difficulty I have with this movie is that I'm somewhat confused as to what it wants me to do with Florence. It starts off as a kind of comedy about self-deception, and one would expect to see Florence ultimately relieved of her delusions and go on to live a more enlightened life. But as Florence's secrets are slowly revealed, it begins to look like the film is intended to shame the audience for laughing at the woman before knowing her full story, so that the film seems to be about the unfortunate propensity to judge people who seems strange to us. But the problem is we keep laughing at Florence's performance because it is still godawful. Florence's motto "people can say I couldn't sing, but no one can say I didn't sing," is not much help. Are we supposed to see the film as encouragement to people to keep at the things they love even if they face discouragement from others? But in Florence's case the discouragement is well warranted and she is only able to do what she does because she is incredibly rich. Or is the point more about art itself—that Florence's love of music was her deepest motivation, and the satisfaction of that personal hunger is more important than what anyone else thinks. But personally, I think the film's chief focus is on relationships: our love for one another—whether Bayfield's for Florence, or hers for him, or even McMoon's for his eccentric employer, demands that we support them in their dreams, even when we recognize that such dreams are impractical or unrealistic. Our job isn't to judge those dreams, but to aid and encourage.
I'm giving this movie three Tennysons. It's definitely worth seeing. Even if you have to drive to another city to see it.
Comments
comments
http://jayruud.com/wp-content/uploads/2016/08/Florence1.jpg
452
640
Jay Ruud
http://jayruud.com/wp-content/uploads/2014/08/JayRuud.png
Jay Ruud
2016-08-31 15:11:08
2016-08-31 15:12:43
Florence Foster Jenkins