Review No. 141: JJ's Grill
1010 Main Street
(501) 336-0100
64.5 percent finished reviewing Conway restaurants
The Situation
He Said: We didn't actually know whether JJ's was local or part of a chain, having never crossed their threshold before. Turns out it is, actually, a chain—there are eight JJ's locations in Arkansas, the local one downtown on Main Street next to Old Chicago, where we've eaten several times and never really noticed JJ's on the other end of the block. But we were eager to eat here—eager to eat anywhere, actually, because it was a very late lunch we were trying to get, having gone to another venue and stood in line for ten minutes trying to get waited on before giving up and coming here instead. I won't mention the other venue, since we'll try them again to review and hope they do better next time.
She Said: I've known grad students who were keen on JJ's, so I knew it had loyal diners/drinkers, but this was our first trip. I have been trying to eat healthy, but when that effort was scuttled by the universe, I was open to a pub "linner"—lunch and dinner combined.
Ambience:
He Said:JJ's says on its Web site that owners want customers to feel "This is a cool place to just hang out and chill. It's comfortable. It's homey." They do a fairly good job at giving off that impression. It's homey enough, with the atmosphere of a western bar where at times they apparently have live music. There are TVs tuned to sports stations, so it's really like a western sports bar. I was a little miffed that they turned off the Duke-Florida State basketball game with FSU leading by a point and only a few seconds left because it was 3 p.m. and that begins JJ's happy hour, when if you order a beer during an NFL game you have a chance to get it free if you call a coin toss correctly. But still—I wish I'd seen the end of that NCAA game.
She Said: I described this place as closer to the "real bar" end of the continuum, where TGI Friday's is on the Disney side of that line, and that was a positive to me. It felt a little grittier and more authentic, though the chain branding came through upon examination. (The waitresses' short skirts were not my favorite thing and definitely made it less "family friendly.") But even before we'd gotten our food I opined that I felt that JJs had been missing in my life, but now I knew about it, and it would be in my future for sure.
Drinks
He Said: This is a bar, so my non-alcohol policy is always a bit tricky, but they have Coke products and they actually realize that Barq's Root Beer isa Coke product, so I had some, and it was good.
She Said: I was feeling my Saturday, so I ordered a gin and tonic. They don't have Hendrick's Gin, which is a sad thing to learn, but I had Tanqueray, and it was suitably adult without being too strong. I would order this again.
Food
He Said: Let's be clear: This is a bar and grill, so their forte is going to be burgers and fries and such like, and of course drinks. Now because of my pancreatic problems, I can't drink alcohol, so that's going to be one area I'm going to let slide. I'm also on a low-fat diet, as readers know, so red meat in general is not high on my list. So my review of this kind of place is going to be, shall we say, idiosyncratic. As Chaucer once said, "A blind man cannot judge well in hues."
But there are people who can't or don't drink, and there are other people who are on low-fat diets, or eat with other restrictions, so I'm here to represent their interests. JJ's does have things like chicken wraps on their menu, as well as a turkey burger and vegetarian burgers, but the fact was I had just had a turkey burger the night before, and I also saw that they had my personal favorite, grilled salmon, in the "Serious Meals" section of their menu. Now I knew this was not the sort of place where salmon is going to be a specialty of the house, but it did sound tasty, since the menu talked about serving it on a bed of Spanish rice with their own "signature spice." So I went for it. As a Serious Meal it came with two sides, so I ordered grilled veggies and, because I figured they were a staple of meals here, the fries.
I did ask for the salmon to be cooked "medium," but I got a vibe from the server that this was an unlikely occurrence. Turns out she was all too clairvoyant on that score. The salmon was way overdone when it came, so there was a lot of extra chewing that went on. The signature spice was actually nicely tangy, and the Spanish rice was very tasty, but they couldn't save the salmon. Unless you're into salmon jerky, you may not want to order that here.
This is not to say I didn't get some real enjoyment out of the meal. The rice, as I say, was quite good. The steamed vegetables included a lot of mushrooms, red peppers and squash, and were nicely done and flavorful. But the fries were extremely good: crispy, thin, tangy spiced—I could have made a whole meal just out of them. And in fact that would have been easily possible, because there were a lot of them. I certainly did not go away hungry.
She Said: Perusing the menu,I dithered, dear readers, pulled apart by my desire to stay healthy in 2019 (and fit into a gala dress for a future date on my calendar) and by the desire to allow JJ's to lead with its strengths. And given He Said's issues, I didn't think it fair to you for both of us to order from the rarely visited sections of the menu. So, in the end, I went with the fried-egg burger…with baconand onion rings.
In an effort to follow the letter of my laws until that dress is successfully worn, I went with the gluten-free bun (no "bread") to avoid white flour, and I'm still off potatoes, so the onion rings served nicely, as I love them anyway. Before I committed, I toyed with ordering one of the salads that really did look delicious, or the fish or shrimp tacos, but I'm quite sure I'll be back to try them both.
When the food arrived, I knew I'd chosen wisely. The egg was perfectly cooked to be just soft enough on the beef and with the bacon and bread to really taste like a brunchy-burger triumph. The bacon was actually crispy and added to the accompaniments perfectly. The gluten-free bun was so good, I'll ask for it again when I'm not being so food freaky—though that will happen when I feel I'm underweight, which will be never. I could only eat half of it, and toward the end of that abandoned the bun to get the good stuff before my stomach closed for business.
And those onion rings. I thank the universe that I swore off bread, rice, pasta and potatoes for gala goals, because that drove me to these perfectly crafted onion beauties. Unlike a lot of onion rings that comprise a very thick, stand-alone breading, the onions and breading (it's not bread—it's not bread) were well married to create a satisfying experience of taste and texture.
Service
He Said:Our server was professional, checked back a few times, took our order nicely and accurately, even tried to tell the chef to cook my salmon medium (to no avail). She also had on the shortest denim skirt I've seen in a while: Apparently this is a JJ's signature thing—cowboy boots and short denim skirts on the waitresses. I couldn't help thinking that such a uniform is just a little bit sexist as well as being passé: I mean, they're not going to hire any male servers, are they? And many women who because they are of a certain age or body type or modesty might not feel comfortable working there. I was a little bit uncomfortable.
She Said: Yeah, we're both too feminist for those outfits, for sure, Ruud, but our hostess and server and food runner were all functioning on a high-quality restaurant level. As we were leaving the place was filling up for happy hour, and I was confident these women knew how to handle lots of crowded tables. It was professional all around.
What We Got and What We Paid: One Tanqueray Gin and tonic, one root beer, one egg and bacon burger on a gluten-free bun with onion rings, one grilled salmon with grilled veggies and fries, all for $39.78.
Elapsed Time from Our Arrival to Food Arrival:23 minutes
Rating:
He Said:I know that She Said was far more enthusiastic about her meal than I was, and I did like the veggies and the fries. I'd certainly be willing to give JJ's another try, and order something more in their wheelhouse, like a turkey burger, next time.
She Said (or is it worth the weight I gained): I didn't gain an ounce, so yes (though I did run 6 miles and basically ate half my meal and no other food except a light breakfast, so don't count on this for your diet meals). I was willing to gain more than a pound for this stellar burger and these fantastic onions rings.
 Is JJ's Good At What It's Good For? Absolutely, as long as you let JJ's serve you what it's good at: not salmon but pub food, and don't forget the onion rings … oh, and drinks all around!
NOW AVAILABLE!!!
Jay Ruud's most recent novel, Lost in the Quagmire: The Quest of the Grail, IS NOW available. You can order your copy direct from the publisher (Encircle Press) at http://encirclepub.com/product/lost-in-the-quagmire/You can also order an electronic version from Smashwords at https://www.smashwords.com/books/view/814922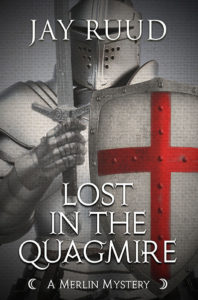 When Sir Galahad arrives in Camelot to fulfill his destiny, the presence of Lancelot's illegitimate son disturbs Queen Guinevere. But the young knight's vision of the Holy Grail at Pentecost inspires the entire fellowship of the Round Table to rush off in quest of Christendom's most holy relic. But as the quest gets under way, Sir Gawain and Sir Ywain are both seriously wounded, and Sir Safer and Sir Ironside are killed by a mysterious White Knight, who claims to impose rules upon the quest. And this is just the beginning. When knight after knight turns up dead or gravely wounded, sometimes at the hands of their fellow knights, Gildas and Merlin begin to suspect some sinister force behind the Grail madness, bent on nothing less than the destruction of Arthur and his table. They begin their own quest: to find the conspirator or conspirators behind the deaths of Arthur's good knights. Is it the king's enigmatic sister Morgan la Fay? Could it be Arthur's own bastard Sir Mordred, hoping to seize the throne for himself? Or is it some darker, older grievance against the king that cries out for vengeance? Before Merlin and Gildas are through, they are destined to lose a number of close comrades, and Gildas finds himself finally forced to prove his worth as a potential knight, facing down an armed and mounted enemy with nothing less than the lives of Merlin and his master Sir Gareth at stake.
Order from Amazon here: https://www.amazon.com/Lost-Quagmire-Quest-Merlin-Mystery/dp/1948338122
Order from Barnes and Noble here: https://www.barnesandnoble.com/w/lost-in-the-quagmire-jay-ruud/1128692499?ean=9781948338127
Comments
comments
http://jayruud.com/wp-content/uploads/2019/01/IMG_0983-2.jpg
1750
2916
Jay Ruud
http://jayruud.com/wp-content/uploads/2014/08/JayRuud.png
Jay Ruud
2019-01-13 15:55:31
2019-01-13 15:55:31
JJ's Grill