Review No. 81: John Daly Steakhouse
912 Front Street
(501) 504-2380
41.1 percent finished reviewing Conway restaurants
The Situation
She Said: We were getting ready for a little jaunt to Montréal, so I was already in vacation eating mode, and there was a new steakhouse in Conway, and I thought I'd start the holiday downtown!
He Said: John Daly, pro golfer from nearby Dardanelle, has had plans to open a steakhouse here since 2015, but it finally came together, and the new much-anticipated business opened in downtown Conway a few weeks ago. We decided to give it a bit of time to get over any opening bumps, and hit it last week. And behold, it was good.
Ambience:
She Said: It's very steakhouse-y. Kind of sleek and masculine, but friendly. We were seated in an area of about eight tables with a large flat-screen tuned, of course, to golf. I find golf broadcasts personally uninteresting, but somewhat hypnotic, so I was happy with the environs. Our waitress told us that they had built the place from the ground up, but it is very sensitive to its environment, which had made us think erroneously they had rehabbed a Front Street mainstay. Down to the faux tin-ceiling tile design, the restaurant is lovely, fitting and inviting.
He Said: The atmosphere is comfortable and a little bit formal, with waiters all in white shirts. There seem to be several separate dining areas inside, some perhaps more informal than the one we were in. The wide-screen TV with the golf channel is a bit like watching grass grow, but I guess you could call it soothing.
Drinks:
She Said: It was lunch, but it was VACATION-mode lunch, so I had a gin and tonic. I only really love these if they are made with Hendricks gin, and this restaurant has Hendricks, so it was delicious. But, as great as the G&T was, the coffee was awful. It was like a coffee-flavored drink product, the Folgers you might get at a church gathering. Given how perfect everything else was in our visit, this watery disappointment really stood out in the "needs improvement" area.
He Said: I had a soft drink. It was fine, but I honestly don't remember what flavor I had! I do remember getting a refill though…
Food
She Said: So, funny story, I learned to eat steak rare from two Hindu friends, who took me to a steak house and then were shocked to learn that I did not like steak. My mother always cooked our steaks at home well-done. (!) My Hindu friends, who shall remain nameless, told me that I wouldn't know if I didn't really like steak until tried a filet mignon, very rare. If I didn't like it, then, indeed, I was a true steak-hater. That was the day I became a devotee of the very-rare-just-barely-show-it-to-the-flame steak. And this is a dish I love. I adore. But I do not like any other cut of steak. At all. The lunch menu did not list a filet option, so I was thinking of getting the burger, but thought I would ask for the filet and see if they could do it. Indeed, they could. We noted later on the bill that the six-ounce filet is $33 (the 10-ounce is $48). I asked for my filet  "very rare." And the John Daly Steakhouse kitchen delivered. It was cold in the middle, just as I prefer it. (I'm your friend who orders steak tartare if it's on the menu and eats it with glee no matter how discomfited you are.) I had the six-ounce portion, and it was perfect, rich and delicious, a carefully cultivated cut of meat. I don't eat mammals often, and steak maybe once every couple of years, and this was worth the occasion. It came with a side of my choice: mashed potatoes. These were delicious. They were mashed with skins and when I asked the server what was in them, she surprised with the answer, "mustard." There is a faint note of it, which is delightful and not too strong or overwhelming.
And then, in order to train for our foodie vacay coming up, we ordered dessert. This was a chocolate cake, that the server told us was large, so we of course decided to split it. The cake came, and it was an actual small cake, not a piece of cake. We both ate what we could and then took most of it home. It was delicious, undry, flavorful, with tasty, rich frosting and a pleasant texture. I would order this again… for a party of six.
He Said: If you are a frequent reader of this blog, you know that my go-to entrée is salmon. It came with a delicious ginger-soy glaze on the side. Let me just say that this was unequivocally the best salmon I have had since moving to Arkansas 14 years ago.
Most places overcook salmon. I don't really know why. Perhaps many customers, like She Said with her steak, aren't really aware of how salmon is supposed to be cooked, and the restaurants get tired of having it sent back. But the server tells you up front here that they cook the salmon medium because dagnab-it, that's how God intended it. (I admit I'm paraphrasing a bit here.)
This salmon was like butter melting off the tongue. Don't overuse the glaze; the salmon is so delicious on its own that you don't need much. I shall return here regularly for salmon.
I had a side of market fresh grilled vegetables as well, and these, mostly various kinds of squash, were very tasty, grilled in olive oil. They make a great complement to the salmon. As for the chocolate cake, I am drooling thinking about it. Yes, we had to bring some home. I am drooling thinking about eating the leftovers.
Service
She Said: The service here was stellar. I asked for something off the menu, and I got it, the server explained the dishes to us, was very conversational and helpful, and most importantly, understood the order of a steak, "very rare."
He Said: Service was stellar, from start to finish. We expected a few bumps because the place was new. But there was nary a bump anywhere.
What We Got and What We Paid: Filet mignon, gin and tonic, chocolate cake, salmon with a la carte roasted vegetables and soft drink, all for $97.52. Yes, that was lunch, but we ordered off the full dinner menu. Note that the steak alone was $33.
Elapsed Time from Order to Food Arrival: 23 minutes.
Rating:
She Said: This restaurant is absolutely going on our special-events restaurant list because the food and service were perfect.
He Said: You will get an excellent meal here. Best salmon in town, with A+ service. This is not a cheap place, but you will get what you pay for.
So…He Said and She Said: Go here because they are very good at what they are good for, but save your pennies to
And by the way, if you like reading "Eat It, Conway," you might be interested in Jay Ruud's new "Merlin Mystery" novel, the third in the series, which will be released on November 10 and now available for pre-ordering on Amazon and on Barnes and Noble: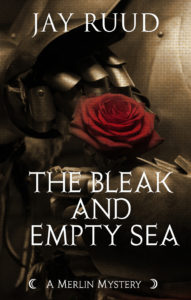 When word comes to Camelot that Sir Tristram has died in Brittany of wounds suffered in a skirmish, and that his longtime mistress, La Belle Isolde, Queen of Cornwall, has subsequently died herself of a broken heart, Queen Guinevere and her trusted lady Rosemounde immediately suspect that there is more to the story of the lovers' deaths than they are being told. It is up to Merlin and his faithful assistant, Gildas of Cornwall, to find the truth behind the myths and half-truths surrounding these untimely deaths. By the time they are finally able to uncover the truth, Gildas and Merlin have lost one companion and are in danger of losing their own lives.
Pre-order from Amazon here: https://www.amazon.com/Bleak-Empty-Sea-Tristram-Mystery/dp/1893035735/ref=sr_1_1?s=books&ie=UTF8&qid=1503328086&sr=1-1&keywords=Bleak+and+Empty+Sea
Pre-order from Barnes and Noble here: https://www.barnesandnoble.com/w/the-bleak-and-empty-sea-jay-ruud/1126958139?ean=9781893035737
Comments
comments
http://jayruud.com/wp-content/uploads/2017/10/IMG_1736.jpg
1512
2016
Jay Ruud
http://jayruud.com/wp-content/uploads/2014/08/JayRuud.png
Jay Ruud
2017-10-29 22:49:48
2017-10-30 20:24:29
John Daly Steak House