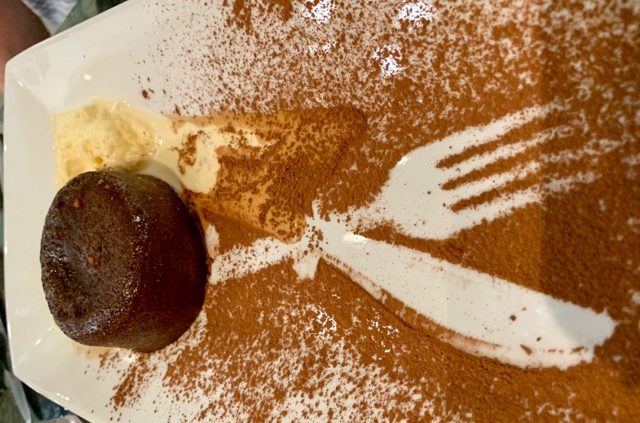 Review No. 168: Local Patio Grill
912 Front Street
(501) 932-6123
75.2 Percent finished reviewing  Conway restaurants
The Situation
He Said: We were having a nonreview meal at Pasta Grill a week or so ago, when we looked across the street and noticed that a new restaurant, the Local Patio Grill, had opened in the old John Daly's Steakhouse space. This steak, salad and seafood place has been open for nearly a month at this location, and the name comes apparently from the seating that seems to be available on the patio jutting out toward Front Street from the second floor. I'm guessing that's not getting much use in the 98-degree weather we're having lately, but could be a nice option in the fall.
She Said: Yes, for the two weeks in spring and the two weeks in fall that it's pleasant to be outside, that will be awesome! We thought this place would be a good place for a Friday night date, so off we went downtown Conway for dinner and drinks.
Ambience:
He Said: I don't think they've remodeled much since the space had very recently been done over by the John Daly folks before their sudden closure about a year ago. We sat in a booth in the bar area, with about eight TV sets tuned to different stations across from us that gave the place a sports bar feel, though a rather stylish one, with gorgeous tin ceilings in the style of 100 years ago.
She Said: The vibe is "posh pub," and I liked the feel. There's a buzz and energy, but the dark accents and ceiling keep the room feeling almost cozy. It has a club feel, as well, and is definitely upscale, but not fussy. I felt relaxed and ready for the weekend.
One thing I will bring up, probably not very helpfully, is the name seems very strange to me. "Local Patio" is not the best choice… what other kind of patio would it be? "Far Away" or "Multinational Conglomerate"? And with The Patio Café literally down the street, it's bound to be confusing. I also thought the menu could use one more proofreading session, but given that it's a new establishment, I'm sure that will work itself out in time.
Drinks
He Said: They have Pepsi drinks here, so I ordered a Mountain Dew. I could have had a refill, but I declined, since I almost certainly would not have been able to sleep if I'd had another one.
She Said: They have cocktails and beer and wine. I perused the drinks menu and didn't see my favorite, a cosmopolitan, so I requested it, but I was told I could only get the cocktails "on the list." I think their liquor license was about 5 days old by then, so I'm hoping someday they get a little more expansive in their cocktail reach, especially once the weather turns toward actual patio weather. So, I went with my second choice, the "Skinny Margarita." I enjoyed this drink very much, and actually prefer it to the syrupy sweet margaritas we've all become accustomed to: the "skinny" version is, I'm told, actually closer to the classic marg. This was nicely grown up, tangy but not sour, and very nice to sip on a hot day. To go with my meal, I had a glass of cabernet. It was a nice pour, in a proper glass, and was slightly fruity—but still pleasantly dry.
Food
He Said: Before we'd even looked at the menus, a server brought us a couple of rolls and a green salad with a light creamy dressing. We ordered the goat cheese bruschetta appetizer, which came as a kind of do-it-yourself kit with about eight pieces of toasted bread on one plate and about eight little balls of goat cheese flavored with what I think was a sweet balsamic vinegar. So you spread your own cheese on the bruschetta slices and it was delicious.
For my entrée it may come as a great surprise to readers that I ordered the salmon, which came with a mango chutney relish topping, and perched upon a short tube of wheat shell filled with a rice and vegetable medley. The presentation was beautiful and the different flavors and textures delightful. The salmon might have been slightly overdone for my taste, but as my wife always tells me, I should specify "medium" to the chef.
Of course, dessert was probably not something I should have had, but I was thinking of you all, dear readers, so I felt it was my responsibility to order the Chocolate Surprise. This was a round piece of chocolate cake with brown powdered sugar and vanilla ice cream. The "surprise" was a gooey chocolate center. This also came with a remarkable presentation—an outline of fork and knife in brown sugar. But the taste was the real treat. If you like chocolate (and if you don't, I don't even know why you're reading this), you'll love this dessert. I only have one complaint: I should have ordered my own instead of sharing it with She Said. It was not huge, and it was over all too quickly.
She Said: When I saw the goat cheese bruschetta "kit," I was thinking it seemed a little chintzy, but actually, the goat cheese was so flavorful, that just that light spread on the bread was perfect. I loved this appetizer, and there were a lot of delicious-sounding choices on the list.
I had a harder time choosing my entrée, and I almost went with one of the runners up in the apps department. This restaurant takes standards and tweaks them, and a couple of times, something that sounded good originally got tweaked in a direction I didn't want (maybe with tomatoes or spicy heat, for example). In the end, I went with the seafood pasta, which was shrimp, scallops and salmon over angel hair pasta in garlic oil, with diced, fresh tomatoes (which aren't as objectionable to me as stronger tasting red sauces). Overall, I found this to be a guilt-free, fresh and healthy entrée, with lots of light protein that was tasty and filling but not heavy. I did think it needed a bit of salt and that the shrimp and scallops were both slightly over cooked. But I will order this again when I want to go out but don't want to break the fat-macros bank.
Service
He Said: We got a lot of attention, from our server as well as from the woman who seemed to be the manager. The server checked back with us several times, and the manager was back at least three times. This may have been in part because we came early and there weren't many in the restaurant, though by the time we were finished it was full. Anyway, we had a lot of service—nothing to complain about here!
She Said: The service was indeed attentive from many staffers, pleasant and efficient. The only hiccup I noticed was how long it took to get our dessert; but the beautiful presentation was worth the wait!
What We Got and What We Paid: Bruschetta appetizer, one Chef Seasoning Salmon, one Seafood Pasta, one "Chocolate Surprise" dessert, one glass Mountain Dew, one Skinny Margarita, one glass Cabernet, all for $76.95.
Elapsed Time from Our Arrival to Food Arrival: 28 minutes from arrival to entrées, though we did get salads and break immediately, and our shared appetizer also arrived in this window.
Rating:
He Said: This is a legitimate new addition to the finer dining scene in Conway. It's a good (though not an inexpensive) complement to Mike's Place and Pasta Grill.
She Said: This fills a great niche in Conway: posh pub. If the cocktail menu expands or becomes more flexible, it will be even better.
Is the Local Patio Grill good at what it's good for? Absolutely! Posh pubs aren't cheap, but they are definitely enjoyable, and this one offers interesting and tasty fare in an attractive and relaxing atmosphere.
NOW AVAILABLE!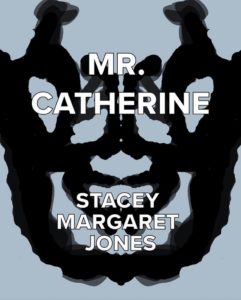 Stacey Margaret Jones's novel, Mr. Catherine, is available online from the following sellers (ebook only through June 24, ebook and paperback as of June 25, 2019): Amazon, Barnes & Noble, Google Play and Apple Books.
Where is Catherine? Catherine has gone missing, a year after confessing to having an affair. Her husband, a marriage and family therapist, hides her infidelity from the police to protect her reputation—and to shelter his pride.
As the secrets begin to pile up, Mr. Catherine, the unnamed husband of the missing woman, is plunged into a world of underground dealings, kidnappers, ex-lovers and drug running in Little Rock, Arkansas, all while grappling with his part in the highs and lows of the life they led together.
With each passing day, a sleepless Mr. Catherine grows more frantic, drinking and popping pills, which stir up painful visions and remembrances that hold a mirror up to the narrator as he comes to terms with his own emotional betrayals.
Mr. Catherine is a fast-paced domestic noir that explores the dangerous secrets between a husband and a wife, as well as a deeper meditation on marriage, connection and honesty.
Comments
comments
http://jayruud.com/wp-content/uploads/2019/08/IMG_7638.jpg
428
640
Jay Ruud
http://jayruud.com/wp-content/uploads/2014/08/JayRuud.png
Jay Ruud
2019-08-19 12:25:47
2019-08-19 12:25:47
Local Patio Grill