Review No. 121: Old Chicago Pizza and Taproom
1010 Main Street
(501) 329-6262
56.7 percent finished reviewing Conway restaurants
The Situation
She Said: As often happens to me before a vacation, I lose my food-related discipline and want to eat lots. I decided we should go out to Old Chicago after a movie, since it's open all day and serves all kinds of food. After The Spy Who Dumped Me, we headed on over late on a Saturday afternoon. We've been here before, but it's never made it onto our short list of restaurants we frequent in Conway.
He Said: Old Chicago is not one of the largest pizza chains in the United States, with only around 100 restaurants, which is only a fraction of what Domino's or Pizza Hut have. Still, there are Old Chicago restaurants in 22 states, and the wide variety of food and drinks on its menu make it a favorite in most of its locations. In Conway, it is one of a plethora of pizza joints, but that variety does make it stand out.
Ambience
She Said: Okay, I knowthis décor style can be categorized under "Manufactured 'Authentic' Neighborhood Pub: You Know, For Families!" But it's pretty comfortable and chill for a large restaurant. The division of the rooms, tables and booths helps to make it feel cozier than the square footage would predict. We were seated by Loudy McLouderson, though, so that cut down on our relaxation. There are multiple TVs tuned to different sports and stations so you can watch those if you don't want to talk to each other and your phone is broken. Aside from our noisy neighbors, our booth in the room with the bar was comfortable.
He Said: Yes, this is a cozy place, reminiscent of someplace like TGI Friday's or Chili's. But you're right, there was some loudness at the table behind us. I believe that She Said heard a Podcast recently in which some French people mentioned that the most annoying things Americans do when they visit is talk way too loud in restaurants. And they theorized that the reason for this is that American restaurants insist on playing music very loudly. So people have to shout to be heard above it. The people behind us must have been trained that way. But I digress.
Drinks
She Said:They have lots of different cocktails and drinks here, and I was living large in pre-vacation style, so I ordered a margarita and agreed with the waitress that the Patron margarita on the rocks was called for. It was definitely tasty, but as often happens in these chain restaurants with glossy, full-color drink menus, it was a money suck for the size of the drink (it was not "big as yo head" as margaritas often are at local Mexican joints). After dispensing with the margarita during the appetizer, I switched to a glass of wine to have with my meal (9 ounces, thank you very much). They did not have my preferred Malbec, so I had a glass of the J.Lohr cabernet. This is a wine I buy for our home and give as a gift, so I knew I would like it, and I did.
He Said: Beer is big at Old Chicago (hence the "taproom" part of the name).  But beer is something I can't have, so I asked for a root beer, thinking they wouldn't have it and I'd have to find out what they actually did have. But turns out they had root beer, and had it in a bottle, so excellent.
Food
She Said:Many of the appetizers look quite delicious but weren't sharable for us because of their fat content. In the end, we went with the parmesan garlic fries, which certainly were not low fat (just lower than other options) but were too irresistible. Y'all, these were like food crack. They come piled on the plate, drizzled with the garlic cream sauce and sprinkled with parsley, Italian seasonings and garlic. The portion was plenty for two—maybe even a small, starchy meal for two. I really enjoyed them and kept trying to stop applying them to my face because I had a big meal coming, but, I just kept going.
For my meal, I ordered pizza, but I was torn, because Old Chicago offers lots of different kinds of mac and cheese, including a make-your-own option that really called to me. In the end, my love for pizza won out, and when I saw Old Chicago offers a "Tavern Thin" option, I chose that with pepperoni, green olives and fresh basil. Now, readers, you know, when I say I like thin crust, I mean my ideal crust is cracker thin, which this was not. This was more like two flatbreads "thin," which is not thin to me. It is sliced in squares, which is reminiscent of my husband's hometown pizza in Racine, Wisconsin (where Wells Brothers will school all y'all on what an actual thin crust is), so I liked that nostalgic touch. The toppings were perfectly cooked with pepperoni that had crispy edges and tasty fresh basil and yummy whole green olives, but given the thickness of the "thin" crust, I wished I had tried the macaroni and cheese.
He Said: Oh indeed, those truffle fries were excellent. I highly recommend them. I didn't order pizza, because generally pizza has a pretty high fat content, what with the pepperoni and the cheese. I could of course order vegetarian pizza, but the cheese is still there, and without that, you haven't really got a pizza.
So I ordered something from the huge menu that looked interesting and different: Oh My Spaghetti Pie with chicken. It was chicken, right? So it couldn't be too fatty.
I knew I was quite wrong in this assumption when the entrée came. There was so much cheese in it that it couldn't be too good for me. It was quite delicious, tasting a lot like lasagna, but with spaghetti cooked in with the cheeses, rather than the extra wide lasagna noodles. But I couldn't finish it, it was so rich. When I looked online later, at an Old Chicago nutrition post, I found that there were 97 grams of fat in my spaghetti pie. That's almost twice as much as I should be having in an entire day. I didn't feel well afterward. Now I know why. I would have been better off having a whole pizza.
I have to remember to look online beforegoing to the restaurant. And let me be a lesson for you: if you need to be eating healthy, take a look online before going to a chain restaurant. And appreciate the restaurants that give you calorie counts on their menus.
She Said: Yes, you stepped on a fat-gram mine there, Ruud! One thing about Old Chicago is that you can build your own pizza, and when I was vegan for a week for an article, I had a "pizza" here with veggies and no cheese. You're right to look online before you go if you have health issues or diet goals so you know what you're getting into and can devise some work-arounds.
Service
She Said:We rarely mention servers by name in our reviews, even when it's great, but Lydia definitely made our visit to Old Chicago very pleasant. She was chatty, while still professional, attentive without hovering, authentic without being confessional, and enthusiastic without being overwhelming. She made the visit and was a credit to the restaurant.
He Said: Lydia was da bomb! Do they till say that?
What We Got and What We Paid: One Patron margarita, one parmesan garlic fries to share, one Oh My Spaghetti Pie with chicken entrée and a root beer, one thin-crust individual three-topping create-your-own pizza, and a nine-ounce cabernet for $46.34.
Elapsed Time From Our Arrival Until Food Delivery: She Said accidentally deleted the note on her phone with the times, but we were seated immediately, and the appetizers and entrees came at comfortable times.
Rating
She Said (Or Was It Worth the Weight I Gained): I didn't weigh in the next day (VACATION, Y'ALL), but this food and experience were worth 1.5 pounds.
He Said:The food was good, but it was not good for me. Pizza would have been a better choice.
So… He Said and She Said: Go here for a better-than-average chain experience, but not for actual "thin" pizza crust.
NOW AVAILABLE:
If you like these reviews, you might enjoy Jay Ruud's most recent novel, now available from the publisher at https://encirclepub.com/product/the-bleak-and-empty-sea/. Also available from Amazon or Barnes and Noble.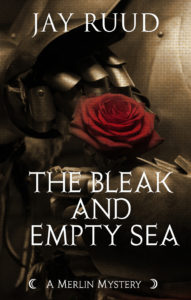 When word comes to Camelot that Sir Tristram has died in Brittany of wounds suffered in a skirmish, and that his longtime mistress, La Belle Isolde, Queen of Cornwall, has subsequently died herself of a broken heart, Queen Guinevere and her trusted lady Rosemounde immediately suspect that there is more to the story of the lovers' deaths than they are being told. It is up to Merlin and his faithful assistant, Gildas of Cornwall, to find the truth behind the myths and half-truths surrounding these untimely deaths. By the time they are finally able to uncover the truth, Gildas and Merlin have lost one companion and are in danger of losing their own lives.
Order from Amazon here: https://www.amazon.com/Bleak-Empty-Sea-Tristram-Mystery/dp/1893035735/ref=sr_1_1?s=books&ie=UTF8&qid=1503328086&sr=1-1&keywords=Bleak+and+Empty+Sea
Order from Barnes and Noble here: https://www.barnesandnoble.com/w/the-bleak-and-empty-sea-jay-ruud/1126958139?ean=9781893035737
Comments
comments
http://jayruud.com/wp-content/uploads/2018/08/IMG_5191.jpg
3024
4032
Jay Ruud
http://jayruud.com/wp-content/uploads/2014/08/JayRuud.png
Jay Ruud
2018-08-13 09:20:20
2018-08-13 09:20:20
Old Chicago Pizza and Taproom