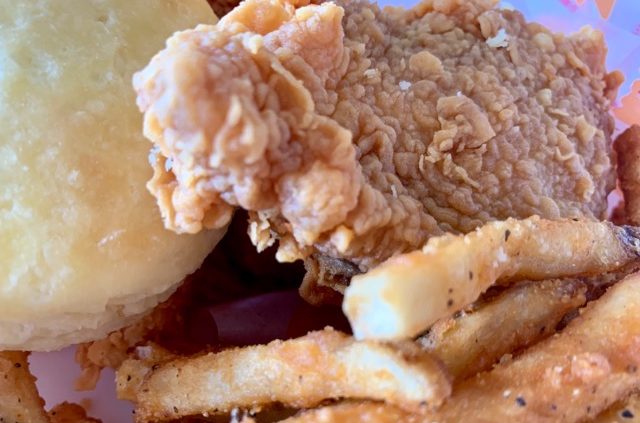 Review No. 167: Popeyes Louisiana Kitchen
1345 E. Oak Street
(501) 504-2420
74.8 percent finished reviewing Conway restaurants
The Situation
She Said:It was a busy Saturday morning, and in an effort to fit in this meal between a treadmill run and an afternoon wedding, I asked He Said to run to the Popeyes less than a mile from our house to pick up food for a quick lunch at home. It turned out not to be so quick…
He Said: Popeyes was founded in a suburb of New Orleans back in 1972—the restaurant was actually named after "Popeye Doyle," protagonist of The French Connection, which had just won the Best Picture Oscar. By 2002, Popeyes was second only to KFC in terms of numbers of units for a quick-service chicken chain. By now Popeyes has restaurants in at least 40 states and 30 foreign countries. And yet, to tell the truth, I did not even know there were any Popeyes locations in Conway until She Said told me it was next on our list to review. Partly that may be because I never have much reason to keep going east out of town on Oak Street beyond Conway Commons shopping center, and so didn't realize it was just a block or so beyond, on the south side of the street.
Ambience:
He Said: The place looked like every other fast food place. It was bright and pretty clean, with a counter to place an order at. Nothing about the interior to put you off, but nothing to make you regret that you were picking up your food rather than dining in.
Drinks
She Said:I asked for unsweet iced tea, which He Said brought to me with no ice, so I added a bunch from the fridge, and it was fine.
He Said:In my defense, I had put ice in it. The ice had melted by the time I got the order home. They had Coke products here, but no root beer. The did have Fanta, and I went for a Strawberry Fanta drink. It was a tasty change and had no caffeine, which I was fine with.
Food
She Said: I had a two-piece chicken meal with dark meat, including a leg, a biscuit and French fries. The chicken was fine: It was crispy, not greasy. The seasoned fries were pretty limp by the time they came to me, which is not the best feature of fast food, which is going to be picked up often and taken home or to work, etc. The best thing was the biscuit, which was flaky and buttery. Overall, though, the meal was forgettable, and given the calories and fat grams, somewhat regrettable.
He Said: I had checked Popeye's online nutrition guide before visiting the store, and had a few items that were pretty low in fat content so that I could eat healthy: The online nutrition chart showed what they called a "Naked Chicken Wrap" which had only 6 grams of fat, or a "BBQ Naked Chicken Po Boy" the thought of which, at just 7 grams of fat, made my mouth water. When I got to the actual store, however, I found that they do not have the wraps or the po' boys on the menu here, so I had to regroup.
I ordered mild chicken tenders which I remembered did not seem to be especially fatty on the chart. Indeed, when I checked after coming home, I found that an order of three mild tenders had 14 grams of fat, so my 5-piece order must have about 24 grams. So that was within my pancreatic range, especially since I ordered green beans as my side, and those had only 1.5 fat grams. Unfortunately, I then realized that the biscuit that comes with every order has 15 grams of fat in itself. That meant that my entire lunch came in at a little over 40 grams of fat. That was a good 2/3 of my daily limit.
I have to agree with She Said that the chicken was crispy and tasty without being greasy—probably less greasy or fatty than KFC right down the street. The green beans were nothing to write home about—they seemed to come straight out of a can. As for the biscuit, I agree it was quite tasty—probably loaded with butter which was responsible for those 15 fat grams.
Service
He Said: Here's where things get sticky. I placed my order at the counter and paid, then waited with my order number. And waited. And waited some more. It was 20 minutes before I got my food. And people ahead of me did not seem to be getting their orders any faster. It is possible that the drive-through was clipping along at a better rate, because I didn't see that many cars lined up. Or it could be that people waiting in the drive-through line just gave up and drove off, which kept the line shorter. In any case, it would be hard to justify calling this "fast food." We could have gone to sit-down restaurant and been served as quickly.
She Said:I was pacing the floor at home, wondering where the food was, hoping you hadn't had some kind of tragic chicken accident, Ruud.
What We Got and What We Paid: Two-piece chicken meal with dark meat, biscuit and French fries, with unsweet iced tea; five-piece chicken tenders with biscuit and green beans and a strawberry Fanta, all for $17.09.
Elapsed Time from Our Arrival to Food Arrival: 20 minutes after order was placed.
Rating:
She Said:Meh.
He Said: The chicken was probably as good as most fast-food places, and the biscuits were pretty good. And the price was not bad, but overall it was not a memorable meal.
Is Popeyes good at what it's good for? It's certainly not fast, and there's definitely better chicken in town.
NOW AVAILABLE!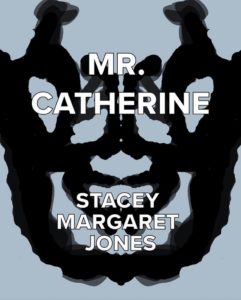 Stacey Margaret Jones's novel, Mr. Catherine, is available online from the following sellers (ebook only through June 24, ebook and paperback as of June 25, 2019): Amazon, Barnes & Noble, Google Play and Apple Books.
Where is Catherine? Catherine has gone missing, a year after confessing to having an affair. Her husband, a marriage and family therapist, hides her infidelity from the police to protect her reputation—and to shelter his pride.
As the secrets begin to pile up, Mr. Catherine, the unnamed husband of the missing woman, is plunged into a world of underground dealings, kidnappers, ex-lovers and drug running in Little Rock, Arkansas, all while grappling with his part in the highs and lows of the life they led together.
With each passing day, a sleepless Mr. Catherine grows more frantic, drinking and popping pills, which stir up painful visions and remembrances that hold a mirror up to the narrator as he comes to terms with his own emotional betrayals.
Mr. Catherine is a fast-paced domestic noir that explores the dangerous secrets between a husband and a wife, as well as a deeper meditation on marriage, connection and honesty.
Comments
comments
http://jayruud.com/wp-content/uploads/2019/08/IMG_7467.jpg
449
640
Jay Ruud
http://jayruud.com/wp-content/uploads/2014/08/JayRuud.png
Jay Ruud
2019-08-12 11:35:16
2019-08-12 11:35:36
Popeyes Louisiana Kitchen