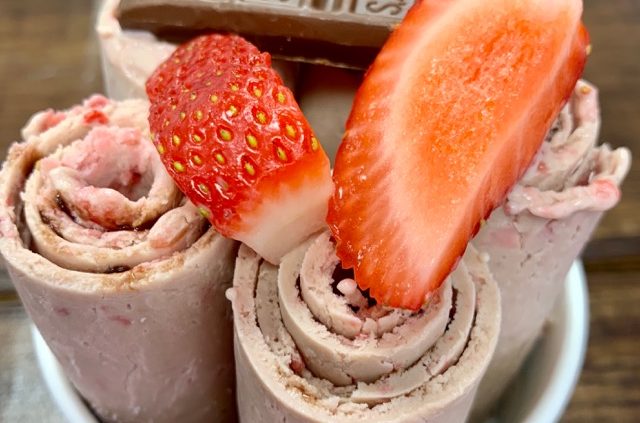 Review No. 163: Rolled Up Ice Cream Shop
1100 Bob Courtway Drive Suite 12
73.6 percent finished reviewing Conway restaurants
The Situation
He Said: We'd just eaten a Sunday-after-church meal at Mike's Place and decided to go to this Rolled Up Ice Cream place for dessert on the way home. It's been open about a month, but we'd walked our dogs by here in the morning, and noticed it would be open Sunday afternoon, and so here we came. And by the way: The sign says "Ice Cream Shop," not "Ice Cream Shoppe," so that's a point very much in their favor.
The process practiced here originated in Southeast Asia, and, known as "Thai rolled ice cream." or "stir-fried ice cream," hit the United States in 2015, and has since, as they say, been sweeping the nation.
She Said:So it's ethnic food! Yes, once we walked Gwenhyfar and Lavinia by the store, I was thinking about nothing but ice cream, since it's a pretty big treat in my book. We don't keep it at home and don't stop in for it very often, but this, dear readers, was for you, so I was all about it.
Ambience:
He Said: It's very bright and cheery, and also fairly sparsely decorated inside. There isn't a lot of seating here—one table and then a long counter along the wall with benches all along the way. As it was, we had food in the car and didn't stay, but rather took the ice cream home with us. FYI, 95-degree weather wreaks havoc on ice cream if you don't eat it fast enough.
She Said: Yes, the natural light from the windows wall on Bob Courtway makes the shop light and airy. The ice cream counter is the natural focal point of the small shop, and that's okay, because it's very entertaining.
Drinks
He Said:We didn't have any here, but they did have drinks—some sodas, tea, bottled water. But we were just here for the ice cream.
Food
He Said:There were two columns of roll-up possibilities on the menu on the wall: One column listed ice-creams with lots of kinds of candy or cookies. The other listed ice cream mixed with a variety of fruits. I chose the chocolate base with chopped strawberries, which also came with fresh strawberries on top and a swirl of chocolate syrup in the middle. It was served in a small cup as five rolls of ice cream, with fresh strawberries and a piece of a chocolate Hershey bar topping it all off. I could have had whipped cream as well, but I figured I was playing it dangerously anyway with the likely fat content of the ice cream, and chose to forego the whipped cream.
My ice cream dish was delicious. Fresh, creamy, chocolatey and strawberry-ey, it really hit the spot on a very warm day. Since the shop is just down the street from our house, I have a feeling we'll be swinging by here fairly often.
She Said:I was a little overwhelmed by choice and went with the red-velvet roll, which includes a red-velvet Oreo (don't @ me… I have mixed feelings about flavored Oreos, too) and chocolate in a vanilla base with crushed Oreo on top. I also added in a Reeses peanut butter cup, and got one crushed up in ice cream and one whole as "garnish" on top.
I really loved the process of this! Instead of getting ice cream from a tub and flattening it out with various sprinkles, the attendant takes the actual sweet cream and pours it on a cold plate, upon which it quickly freezes. While it's doing so, he or she chops up the additions and mixes them together, finally flattening the now-ice cream into a square shape so it can be rolled up into those five delicious rolls and served on end in a cup with garnish.
It was really tasty, too. The additions were so well mixed given the process, and, of course, the sweet treats dressing the dish made it even more decadent. I was torn between the red velvet and the mango roll on the fruit-additions side of the menu. Next time, I'll try that. It sounds delicious and that much healthier.
Service
He Said: When we showed up around 1 p.m. on a Sunday, we were the only ones in the store, so we got a lot of focus from the three ice-cream rollers in the place. It was kind of fun to watch them make the roll-ups pouring the cream onto the cold, chopping up the ingredients, spreading out the ice cream and rolling it into coiled strips. It's kind of like Hibachi ice cream.
She Said:Yes, we had the attention of the entire staff! Everyone was friendly and asked us if we'd had rolled ice cream before. We thought we had, but not like this! It was fun, and I'd love to take our grandsons in so they could enjoy the process as well as the sweet, chilly treat.
What We Got and What We Paid: One Chocolate Strawberry roll up, one Red Velvet roll, both for $13.29.
Elapsed Time from Our Arrival to Food Arrival: Nine minutes from orderin' to eatin'.
Rating:
He Said: We've been to several new ice cream places in Conway, but so far this has been the one I enjoyed the most. Of course, what I'd really like is to find one that had frozen yogurt, since that would be a low-fat option. Tell me if you find one.
She Said: I really enjoyed it, and since it's not only on my side of town, but also walking distance, I hope they stick around. I'd like to try the mango roll!
Is Roll Up Ice Cream good at what it's good for? YES indeed. A tasty, if slightly pricey, cool treat for summer, completely customizable. Yummy fun!
NOW AVAILABLE!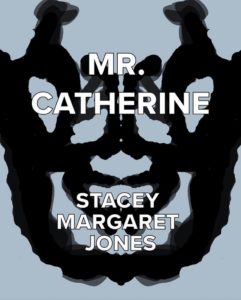 Stacey Margaret Jones's novel, Mr. Catherine, is available online from the following sellers (ebook only through June 24, ebook and paperback as of June 25, 2019): Amazon, Barnes & Noble, Google Play and Apple Books.
Where is Catherine? Catherine has gone missing, a year after confessing to having an affair. Her husband, a marriage and family therapist, hides her infidelity from the police to protect her reputation—and to shelter his pride.
As the secrets begin to pile up, Mr. Catherine, the unnamed husband of the missing woman, is plunged into a world of underground dealings, kidnappers, ex-lovers and drug running in Little Rock, Arkansas, all while grappling with his part in the highs and lows of the life they led together.
With each passing day, a sleepless Mr. Catherine grows more frantic, drinking and popping pills, which stir up painful visions and remembrances that hold a mirror up to the narrator as he comes to terms with his own emotional betrayals.
Mr. Catherine is a fast-paced domestic noir that explores the dangerous secrets between a husband and a wife, as well as a deeper meditation on marriage, connection and honesty.
Comments
comments
http://jayruud.com/wp-content/uploads/2019/07/IMG_6324-2.jpg
445
640
Jay Ruud
http://jayruud.com/wp-content/uploads/2014/08/JayRuud.png
Jay Ruud
2019-07-08 08:36:27
2019-07-08 08:36:27
Rolled Up Ice Cream Shop