Review No. 97: Shimmery Donuts 
985 Carson Cove Suite E
49.5 percent finished reviewing Conway restaurants
(501) 327-2351
The Situation
She Said: I was in training for vacation eating after two months of yogurt with fruit and nuts (or nothing) for breakfast. I needed to step up my game before we left for a road trip, so doughnuts (I don't spell that word wrong, no matter how many times y'all spell it wrong) were on the docket.
He Said: Yeah, we had tried to come here once before and been denied because the restaurant is only open limited hours. I can't tell you what those hours are right now, because they don't seem to be listed anywhere online. Anyway, I think they are only open the morning. This place used to be a Shipley's Donuts restaurant—there was, in fact, still Shipleys' branding on some things. Several Shipley's stores broke from the parent company not long ago after the company made a number of unpopular changes, and this store was one of those that did so.
Ambience:
She Said: It's not very ambient, but most people don't stay here to eat, driving through the to-go window or carrying it away, but we did see a mom and her littles enjoying their treats at another table. There is an awful lot of natural light (stress on "awful") in the restaurant in the morning, so we sat along the wall counter to escape its migraine-inducing powers. It's rather utilitarian overall, but not unpleasant if you can escape the BRIGHT LIGHT BRIGHT LIGHT.
He Said:  Yeah, it's a kind of small and simple place if you actually eat there rather than pick up your order. But yes, you can eat here. And it's not so bad.
Drinks
She Said: I had a coffee and was able to select a liquid creamer from a variety of choices at the coffee station. I've had better coffee, especially at home.
He Said: I had orange juice from a bottle. And it was fine.
Food
She Said: I wanted to try more than a doughnut, but I also really wanted to try a doughnut (who doesn't?), so I chose the bacon, egg and cheese croissant sandwich and a blueberry glazed doughnut. The breakfast sandwich was tasty, and breakfasty, but the bread was not really a croissant, more of a light roll. It was still yummy. But I love croissants, and I have eaten them in Paris, and this was not a croissant. I ate about half of the sandwich in order to save room for my doughnut. This blueberry glazed doughnut was a solid contender for silver or gold in the Conway doughnut Olympics. It was sweet, with a rich blueberry flavor and pleasant cake-doughnut texture. I would get this doughnut at Shimmery again.
He Said: I remind our readers that because of my pancreatic condition, I am on a very low-fat diet, and there is almost nothing on the menu her that I can eat. For example, were I to order the bacon, egg and cheese croissant that my awesome wife ordered, I would have to ask them to leave off the egg, bacon, and cheese. Seriously, I don't think anything on the menu was made without bacon or sausage, except the doughnuts. But hey, it's called a doughnut shop, sol I had one doughnut, figuring one chocolate frosted doughnut with sprinkles couldn't have that much fat in it, could it? (Shimmery Donuts doesn't have its nutritional information online. Shipley's has three different charts online, but as near as I can figure it, there were probably about 12 grams of fat in that one doughnut. So I was OK there.). The doughnut was delicious, by the way. Chocolatey. Sweet. Just what you'd want in a doughnut. I wish I could eat more of them.
Service
She Said: Efficient and helpful counter service.
He Said:  Yes. Patient with my soul-searching choice process.
What We Got and What We Paid: One breakfast sandwich, a blueberry doughnut, coffee, a chocolate frosted doughnut with sprinkles and orange juice for $6.70.
Elapsed Time from Our Arrival to Food Arrival: 2 minutes
Rating
She Said: I would get doughnuts from this drive-through, but I wouldn't dine in without my sunglasses.
He Said:  The doughnuts are quite good. Be careful—it's not the healthiest place on earth. 
So… He Said and She Said: Go here for efficient breakfast service, especially if you aren't that particular about your croissants.
NOW AVAILABLE:
If you like these reviews, you might enjoy Jay Ruud's most recent novel, now available from the publisher at https://encirclepub.com/product/the-bleak-and-empty-sea/. Also available from Amazon or Barnes and Noble.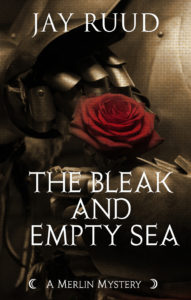 When word comes to Camelot that Sir Tristram has died in Brittany of wounds suffered in a skirmish, and that his longtime mistress, La Belle Isolde, Queen of Cornwall, has subsequently died herself of a broken heart, Queen Guinevere and her trusted lady Rosemounde immediately suspect that there is more to the story of the lovers' deaths than they are being told. It is up to Merlin and his faithful assistant, Gildas of Cornwall, to find the truth behind the myths and half-truths surrounding these untimely deaths. By the time they are finally able to uncover the truth, Gildas and Merlin have lost one companion and are in danger of losing their own lives.
Order from Amazon here: https://www.amazon.com/Bleak-Empty-Sea-Tristram-Mystery/dp/1893035735/ref=sr_1_1?s=books&ie=UTF8&qid=1503328086&sr=1-1&keywords=Bleak+and+Empty+Sea
Order from Barnes and Noble here: https://www.barnesandnoble.com/w/the-bleak-and-empty-sea-jay-ruud/1126958139?ean=9781893035737
Comments
comments
http://jayruud.com/wp-content/uploads/2018/03/IMG_7779.jpg
3024
4032
Jay Ruud
http://jayruud.com/wp-content/uploads/2014/08/JayRuud.png
Jay Ruud
2018-03-04 23:51:07
2018-03-04 23:51:07
Shimmery Donuts