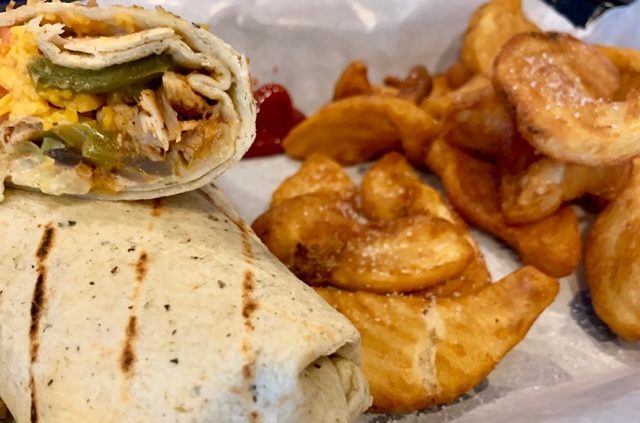 Review No. 170: Skinny J's
2235 Dave Ward Drive, suite #201
(501) 358-6586
76.2 Percent finished reviewing  Conway restaurants
The Situation
He Said: In the former location of the now defunct Roux's Cajun Creole restaurant, a new Skinny J's franchise has now opened on Dave Ward Drive. Skinny J's, which bills itself as "not your average steak and burger joint," may be familiar to Conway folks who are aware of its North Little Rock location. There's also one in Jonesboro and one in Paragould. The first Skinny J's opened in Cash, Arkansas, in 2009, when Cash native James Best returned home from culinary school and started his first restaurant, which soon moved into downtown Jonesboro and then spread to other sites in Arkansas.We had had a long day and were dang hungry, and decided it was time to give Skinny J's a try.

She Said: I've socialized at the Argenta Skinny J's quite often, so I was excited to see the sign go up on Dave Ward recently (Rest in Peace, Roux!). And we'd had two big nights of book parties at E.Leigh's Contemporary Boutique locations in Little Rock and Conway for Mr. Catherine. I'm an introvert, so fun like that makes me really hungry for comfort foods (fat + carbs = love). We asked Erin, the original E.Leigh herself, to join us for this outing, so it made for a lovely afterparty.
E.Leigh's Said: While I am quite familiar with the Skinny J restaurant in Argenta, I have only visited a couple of times. One of those visits happened to be for a glass of wine (or two) with She Said. When it was mentioned as an option for our Mr. Catherine After-Party, I was excited to get the chance to support a new, small business in Conway.
Ambience:
He Said: Skinny J's is basically a sports bar and was very sports-bar-like in its interior. The restaurant is a good sized space but is divided into smaller areas, which make it a little cozier. There are TVs with different sporting events all around. We happened to be right under a TV that was showing the UCA Bears season-opening football game. This did draw my attention occasionally from the table conversation. But only occasionally.
We were seated next to a large party with four rather rambunctious children who had trouble sitting still and were not exactly quiet little mice. Fortunately, we have four dogs at home and so were not unaccustomed to such distractions. But this is the sort of thing you might run into in any sports bar.
She Said: Yes, American restaurants love to be loud, and this one is no different, but the large dining area is well arranged so you don't feel like a cow in the feeding yard of the cattle ranch. We were in a cozier front space, and though the kids were active, they weren't disruptive because the whole place was noisy. After the parties, the general sound level was a bit overstimulating to me, but it was still pleasant, as it was very casual and welcoming.
E.Leigh's Said: I did notice that the restaurant was a little loud, but nothing I wouldn't expect from a family-friendly, sports-bar type atmosphere. I agree that the way they broke up the space made it feel cozier. Overall, the space felt clean and appropriate for this type of restaurant.
Drinks
He Said: For the nonalcoholic diner, they have Coke products here, which in this case did mean that they had Barq's Root Beer, which I ordered and was perfectly happy with.
She Said: I was ready to cocktail! So, I went with my old favorite, which is a big treat for me these days, the cosmopolitan. I didn't see it on the drinks menu, but it's rather standard, so I requested one. The restaurant is new, so our waitress said she'd double check that they could make it for me (I said a G&T would be a fine substitute if they couldn't), and she returned quickly to confirm it was possible and to make sure that lemon vodka was all right. OMG, all cosmos should be made with it! It was even crisper and tastier than the usual cosmo. Thanks, Skinny J's! With my meal, I had a lovely glass of the house cabernet. No complaints on the barend of this sports bar.
E.Leigh's Said: Since I still had a 30-minute drive home to Little Rock, I decided to stick to having one beer only with our meal. I chose Flyaway's Bluewing Berry Wheat Beer. It was delightful, however, anyone ordering this after me that night would be disappointed as I happened to finish off the keg with my order.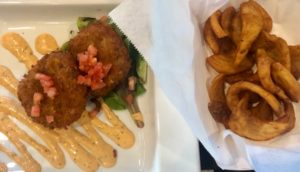 Food
He Said: When they say this is "not your average steak and burger joint," I guess they are mainly referring to the menu, which includes steaks and burgers but a wide variety of other stuff as well. Personally, I was paralyzed by choice when I first got the menu and was drawn in a few different directions. If you read these reviews regularly, you might have noticed that I order salmon a lot. They did have salmon on the menu, but I've learned that if the place doesn't specialize in seafood there may be issues, usually overcooking issues, with salmon. So, I opted for one of the four different chicken wraps they have on the menu here.
Now I do have to keep the fat content down, as I may have mentioned before once or twice, so chicken is usually not bad. The Northeast Chicken Wrap that I ordered has fajita chicken, onions, bell peppers, mushrooms, cheddar cheese and Chipotle ranch dressing, all wrapped in a garlic herb tortilla. None of this sounds too fatty—there's a little bit of fat in the cheese and it's possible there was some mayonnaise in the dressing, which always adds a lot of fat (there's no online nutrition chart for Skinny J's entrees). But this was a really delicious sandwich—the tortilla was tasty, and all the ingredients worked together to create a symphony in my mouth.
The wraps come with your choice of either chips or fries. Since chips are chips and this was a review, I went for the fries, and let me tell you, these were the highlight of the meal. If you haven't eaten at a Skinny J's before—and I hadn't—you'll be surprised that the fries are not the usual long thin pieces of potato, nor the plumper "steak fry" variety, but are cut in flat thin and crispy curls that make a pretty good case for being the best fries in town. Try them and see!
She Said: I, too, was frozen by choice perusing the menu. I was a little disappointed to find that the ahi tuna salad I love to get in Argenta is not on the Conway menu, so I was forced to look more closely at all the offerings. Looking for comfort food, I thought maybe they'd have a breaded chicken sandwich, but all their chicken was grilled, that I could find (good news for He Said!). After a couple of read-throughs, while nibbling on chips and guacamole (that I found a bit too seasoned) I settled on two things, which were also the top two items on E.Leigh's list. I got out my game theory skillz and asked her to order before me, and I went with the item she didn't choose. That was the hamburger and (of course), those amazing fries.
Skinny J's offers a number of burger choices, and at the bottom of the list the menu reads, "hamburger $9." This is my ultimate comfort food, and with the usual fixin's and some mayo, I can be as happy as can be with a nice, chargrilled patty with mayo, lettuce, onions and pickles, a tasty bun and a side of fries. And I was. I wouldn't say the burger is the best in Conway (I'm looking at you TC's Midtown, and you, Burgers, Pies and Fries), but it hit the spot when I wanted to eat my emotions, and, I agree with He Said that these fries, a cross between a curly fry and a steak fry, are professional level.
E.Leigh's Said: I also felt a little over-stimulated at first by all the choices, but quickly settled on two options: the crab cakes or a hamburger. I consider myself somewhat of a crab cake aficionado and anytime a menu has crab cakes, my ears perk up! The menu stated that the crab cakes were made in-house, which is a requirement of mine if I'm going to order crab cakes. I made a quick game-time decision to try the crab cakes, knowing that ordering crab cakes at a sports bar type atmosphere may not turn out well. I also ordered a side of the fries, since the crab cakes fall under the appetizer portion of the menu.
When the food arrived, the crab cakes looked to be the perfect level of crispy and not overly greasy, which I appreciated. While I love a crab cake filled to the brim with lump crab, I also have realistic expectations for a sports bar in Central Arkansas. While they weren't "filled to the brim" with lump crab, they were very good. They had a good amount of crab and weren't overly filled with breading. The remoulade was just right as well. The fries were absolute perfection and I think they were the stars of the show for our entire table. I had had the fries on one of my few other trips to the Argenta Skinny J's, so I knew I was in for a treat. Bottom Line: GET THE FRIES.
Service
He Said: We had a very friendly server who had a sense of humor. She was attentive and, while she sometimes didn't know the answer to a few of our questions because the place had been open such a short time, was quite willing to find the answers for us. We were also asked by three different people if everything was all right, so we did get a lot of good attention from servers.
She Said: Yes, attentive, professional, efficient and friendly service, everything I want in restaurant attention and nothing I don't.
E.Leigh's Said: As someone who is in the service industry, I appreciate great customer service. Skinny J's didn't disappoint, as I felt they gave us great service that night. It felt like Skinny J's employees were all working together as a team to make sure every guest had a wonderful experience, as we had multiple employees stop by to check on us during our meal.
What We Got and What We Paid: One guacamole and chips appetizer, one hamburger, one crab cakes order, one northeast chicken wrap, one extra side of French fries, one root beer, one beer, one cosmopolitan, one glass of house cabernet, all for $70.34 (for a party of three).
Elapsed Time from Our Arrival to Food Arrival: 37 minutes from entry to entrees, with apps and drinks in between.
Rating:
He Said:I am pretty sure we'll be back to try some of their other culinary delights here. It's a cut above your typical sports bar and reasonably priced.
She Said:They had me at the cosmo and won me over forever with the fries.
E.Leigh's Said: I will definitely return as it's the perfect place to take my E.Leigh's Conway employees for a work lunch or dinner.
Is Skinny J's good at what it's good for? Absolutely! A fun, casual environment with good food and friendly service. And those fries!
NOW AVAILABLE!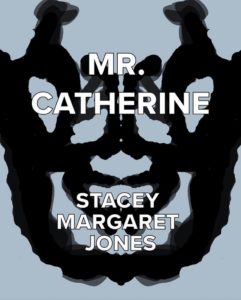 Stacey Margaret Jones's novel, Mr. Catherine, is available online from the following sellers (ebook only through June 24, ebook and paperback as of June 25, 2019): Amazon, Barnes & Noble, Google Play and Apple Books.
Where is Catherine? Catherine has gone missing, a year after confessing to having an affair. Her husband, a marriage and family therapist, hides her infidelity from the police to protect her reputation—and to shelter his pride.
As the secrets begin to pile up, Mr. Catherine, the unnamed husband of the missing woman, is plunged into a world of underground dealings, kidnappers, ex-lovers and drug running in Little Rock, Arkansas, all while grappling with his part in the highs and lows of the life they led together.
With each passing day, a sleepless Mr. Catherine grows more frantic, drinking and popping pills, which stir up painful visions and remembrances that hold a mirror up to the narrator as he comes to terms with his own emotional betrayals.
Mr. Catherine is a fast-paced domestic noir that explores the dangerous secrets between a husband and a wife, as well as a deeper meditation on marriage, connection and honesty.
Comments
comments
http://jayruud.com/wp-content/uploads/2019/09/IMG_7926-1.jpg
429
640
Jay Ruud
http://jayruud.com/wp-content/uploads/2014/08/JayRuud.png
Jay Ruud
2019-09-02 10:11:23
2019-09-02 10:11:23
Skinny J's