Review No. 147: Steak 'n Shake
2215 Dave Ward Drive
(501) 499-8582
67.5 percent finished reviewing Conway restaurants
The Situation
He Said: One of the Conway's newer eateries is the Steak 'n Shake on Dave Ward. This is the sixth Steak 'n Shake in Arkansas: Some Conwegians may already be aware of the ones in Greenbrier, Russellville. Fayetteville, Rogers or Clarksville. Steak 'n Shake is a chain headquartered in Indianapolis that has, as of 2018, some 628 restaurants in 30 different states, as well as a few in Europe and the Middle East. It's got sit-down meals as well as drive through and counter service. The first Steak 'n Shake restaurant opened in Normal, Illinois, in 1934, and the place got famous by popularizing "steak burgers"—hamburgers made from actual ground steak. The chain is also known for "hand-dipped milkshakes." No, that doesn't mean they stick their hands into your milkshake. It means somebody actually scooped the ice cream into a blender instead of relying on a machine. So what you get is a "real" milkshake, not some mechanized fast-food horror.
I know what you're thinking: "But He Said, how can you expose your pancreas to a place that serves only dangerously fatty red meat and even more psychotically high fat-content milkshakes?" Don't worry, Dear Readers, they do have other things on the menu.
She Said: Readers will groan when they find I'm on a new freaky food kick of "carb cycling," so since I was on a "regular macro day," I felt it was a good time to accommodate fast-food, if it could be accommodated within 81 grams of protein, 201 grams of carbs and 54 grams of fat. This is a new Conway restaurant, so I'd been waiting for my chance to check it out. After a Pilates sesh in Little Rock, it was time.
Ambience:
He Said: I kind of expected to be ordering at the counter here, because it does look like a fast-food place. But inside it's a cut above the typical fast-food decor, and you do get waited on by an actual server. You don't pay the server—you do have to go up to the counter to pay, but that's no problem. Just don't forget to tip your server when you do that.
She Said: Yes, I expected counter service given the style of the restaurant and the drive-through line snaking around the parking lot, but no, we were seated as we walked in and served by a friendly, professional (more on that anon). I liked the diner style, which is quite popular lately around these parts. But it was casual and fun in silvers and reds, and I enjoyed it.
Drinks
He Said: Naturally I was drawn to the idea of the milkshake, and looked at the offerings longingly, especially the chocolate and peanut-butter flavored Reese's milkshake—which contained 760 calories and 26 grams of fat. So, that'll never happen. They did, however, have Coke products, including Barq's Root Beer, which I grabbed.
She Said: I, too, wanted a milk shake, but a random lunch on a Thursday wasn't an occasion that warranted such excess. Maybe someday (chocolate and peanut butter, I'm coming for you). Instead, I opted for unsweetened iced tea, and it was fine.
Food
He Said: You could really go hog wild here and order a bowl of the "chili deluxe," which would give you 1,220 calories and 76 grams of fat. Add a shake to that and you can beak 100 on the fat-o-meter. On my diet, if I lived through that meal, I wouldn't be able to safely eat again for 48 hours. But fret not, Dear Readers, you can eat healthy here if you're careful. I opted for the grilled chicken sandwich, which has only 370 calories with 12 grams of fat. A significant portion of those 12 fat grams comes from the mayonnaise that they put on the sandwich: Restaurants love to offer you a low-fat entrée that they then douse with mayo, that secret, silent purveyor of unnecessary fat. I could have told them to hold the fat and put some mustard (always a fat-free choice) on it instead, but the fat content was low enough without that, and I scraped some of the mayo off when it got to the table. The sandwich does come with French fries, for which I could have substituted something essentially fatless if I had desired it, but I got the fries anyway. I figured they added perhaps another 8 grams of fat. Still well within my range for lunch.  I did order a side of their baked beans to go with the sandwich and fries, and these added only a single gram of fat. If I was being extra careful, I could have substituted the beans for the fries.
The sandwich was not bad. Grilled chicken is often pretty bland, and I can't claim that this version was much more flavorful than most, but it was particularly tender, probably more tender than most, and the tomato, lettuce and mayo gave it a satisfying taste. The beans were nothing to write home about: They were in a sauce that was not bad tasting but was pretty thin. I'm not sure I'd order those again on a return visit. The best part of the meal was actually the fries. Steak 'n Shake makes shoestring fries, which are crisp and light and delicious. Those I'll definitely have again when we come back.
She Said: As I mentioned, I was being careful, trying to fit my food choices into a puzzle of the day's nutrients, but as this was my first meal to break my fast, I had some leeway, and I chose what I liked, within reason. I had the single steakburger (no cheese) with onion rings. I found the burger to be a cut above fast food, a little more flavorful, though the patty was quite thin. The onion rings were tasty, and for both the portions were quite reasonable. I didn't have near the fast-food hangover I usually have after dining on processed food. I'd eat here again if I had such a craving.
Service
He Said: We had excellent, prompt, courteous, and very professional service from a friendly (but not excessive) server who was more mature than the typical teenaged waitress one expects at such a place.
She Said: I was pleasantly surprised by the table service, and our server was friendly without being overbearing. This level of service was definitely a plus in this type of restaurant.
What We Got and What We Paid: One grilled chicken sandwich with shoestring fries, baked beans, and a root beer, plus one single steak burger with onion rings and unsweet iced tea, all for $15.73.
Elapsed Time from Our Arrival to Food Arrival:10 minutes.
Rating:
He Said:You can get decent food fairly inexpensively and you don't have to wait long, so it's an agreeable place to go for lunch, especially if you're coming from UCA, which is pretty close by.
She Said answers: How many macros is it worth spending? I wouldn't blow all my nutrients here, as it is still fast-foody, but as such places go, it was tastier and more relaxed.
Is Steak 'n Shake Good At What It's Good For? It's a cut above when it comes to fast food, even if you don't select table service. It's easy to break the calorie bank here, but you can be reasonable if you try.
NOW AVAILABLE!!!
Jay Ruud's most recent novel, Lost in the Quagmire: The Quest of the Grail, IS NOW available. You can order your copy direct from the publisher (Encircle Press) at http://encirclepub.com/product/lost-in-the-quagmire/You can also order an electronic version from Smashwords at https://www.smashwords.com/books/view/814922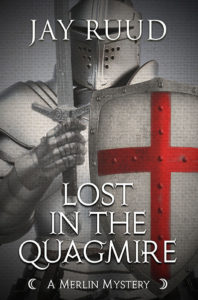 When Sir Galahad arrives in Camelot to fulfill his destiny, the presence of Lancelot's illegitimate son disturbs Queen Guinevere. But the young knight's vision of the Holy Grail at Pentecost inspires the entire fellowship of the Round Table to rush off in quest of Christendom's most holy relic. But as the quest gets under way, Sir Gawain and Sir Ywain are both seriously wounded, and Sir Safer and Sir Ironside are killed by a mysterious White Knight, who claims to impose rules upon the quest. And this is just the beginning. When knight after knight turns up dead or gravely wounded, sometimes at the hands of their fellow knights, Gildas and Merlin begin to suspect some sinister force behind the Grail madness, bent on nothing less than the destruction of Arthur and his table. They begin their own quest: to find the conspirator or conspirators behind the deaths of Arthur's good knights. Is it the king's enigmatic sister Morgan la Fay? Could it be Arthur's own bastard Sir Mordred, hoping to seize the throne for himself? Or is it some darker, older grievance against the king that cries out for vengeance? Before Merlin and Gildas are through, they are destined to lose a number of close comrades, and Gildas finds himself finally forced to prove his worth as a potential knight, facing down an armed and mounted enemy with nothing less than the lives of Merlin and his master Sir Gareth at stake.
Order from Amazon here: https://www.amazon.com/Lost-Quagmire-Quest-Merlin-Mystery/dp/1948338122
Order from Barnes and Noble here: https://www.barnesandnoble.com/w/lost-in-the-quagmire-jay-ruud/1128692499?ean=9781948338127
Comments
comments
http://jayruud.com/wp-content/uploads/2019/02/IMG_1823.jpg
2205
3075
Jay Ruud
http://jayruud.com/wp-content/uploads/2014/08/JayRuud.png
Jay Ruud
2019-02-24 21:31:11
2019-02-24 21:31:11
Steak 'n Shake