Review No. 80: Taziki's Mediterranean Cafe
724 Oak Street
(501) 327-1829
40.5 percent finished reviewing Conway restaurants
The Situation
He Said: Unlike barbecue or Mexican, Greek food is not a saturated market in Conway. Taziki's Mediterranean Grill is one of the main places to go for such fare in the city, and we were having some cravings in that direction, so off we went to the somewhat dodgy parking lot they share with Tacos 4 Life on the near eastern edge of downtown.
She Said: Yes, I was trying to calorie-load to prevent a cold, and I was craving some Taziki's specifically. As you'll see, I have a favorite dish here, and sometimes nothing else will do for lunch or dinner.
Ambience:
He Said: Taziki's has a comfortable interior with some interesting pictures of Greece adorning its walls.
She Said: I like the snuggly pub feel of the Conway Taziki's. There's the perfect mix of dark wood and natural light. There are big booths and smaller tables, and I've always felt comfortable here.
Drinks
He Said: I asked if they had root beer. They did. So I had some.
She Said: I ordered a glass of cabernet, which is my second favorite red wine after Malbec. It's always a plus in my book when a quick-serve restaurant has beer and wine.
Food
He Said: I had been to Taziki's in Little Rock before, and one of my go-to dishes at Greek restaurants is Dolmades—stuffed grape leaves. I was disappointed in these at the Little Rock location, and was hesitant to order them here, but since that's what I order at Greek restaurants I thought I'd better give them a try. But I ordered them as a side, getting the salmon as my main entrée.
The frilled salmon "feast" came with a Greek salad and a choice of roasted new potatoes or basmati rice. I chose the potatoes, and I must say the potatoes were the highlight of the meal. They were perfectly done and nicely seasoned. The salmon was quite tasty as well, not overdone as it often is in places that don't specialize in seafood. The salad was pretty much what you'd expect. I would have this entree again without a qualm.
Now to the dolmades, which are hand-rolled grape leaves stuffed with rice, onions and seasonings. The filling was delicious, but the grape leaves were large, old and tough. In my experience, grape leaves used in dolmades are generally young and tender. These have very tough veins that are difficult even to cut with a knife. It may be that you aren't expected to eat them here, but that's not supposed to be the case. At any rate, I won't be ordering them again.
She Said: Yes, you had a mixed reaction. I did not. I ordered my old standby, the basil tomato sandwich. This is a weird thing for me to like because I don't usually like to eat tomatoes in any shape or form. I think I ordered this for the first time when I was trying to stick to vegetarian restaurant meals, and I was blown away. I love the fresh basil ribbons on the sandwich, along with plenty of feta. These make the tomato less noticeable, and enjoyable for their texture and not too strong on flavor. The sandwich is grilled, which is also very tasty. It comes with Ruffles-style chips and I chose the fresh fruit, which I usually do. It makes a great meal with a perfect mix of flavors and textures.
Service
He Said: You order at the counter, get a number, and the food is delivered to you at your table. The food here came fairly quickly without any hitches, and the server was polite and professional. It was decent service for this kind of place, a sort of cross between fast food and a full wait staff.
She Said: Service is always professional and efficient, but not usually overly friendly. This day was no different. Since different people wait on you, at the counter, with your drink and serving you your food, you don't build a rapport with anyone. But everything was quick and friendly.
What We Got and What We Paid: One tomato basil sandwich, one glass of cabernet, one salmon feast, one dolmades appetizer, one root beer, all for $41.72.
Elapsed Time from Entry to Food Arrival: 14 minutes
Rating:
He Said: Good food in general. Great potatoes and rice, and good salmon. Avoid the dolmades.
She Said: I'd love to try other things on the menu, but I'll never abandon my beloved tomato-basil sandwich. A reliable, delicious café with beer and wine, too!
So…He Said and She Said: Go here for some Mediterranean flavors and a pleasant atmosphere, but be careful about ordering leaves!
And by the way, if you like reading "Eat It, Conway," you might be interested in Jay Ruud's new "Merlin Mystery" novel, the third in the series, which will be released on November 10 and now available for pre-ordering on Amazon and on Barnes and Noble: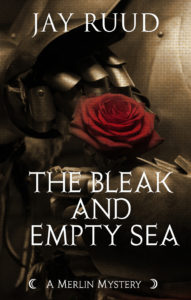 When word comes to Camelot that Sir Tristram has died in Brittany of wounds suffered in a skirmish, and that his longtime mistress, La Belle Isolde, Queen of Cornwall, has subsequently died herself of a broken heart, Queen Guinevere and her trusted lady Rosemounde immediately suspect that there is more to the story of the lovers' deaths than they are being told. It is up to Merlin and his faithful assistant, Gildas of Cornwall, to find the truth behind the myths and half-truths surrounding these untimely deaths. By the time they are finally able to uncover the truth, Gildas and Merlin have lost one companion and are in danger of losing their own lives.
Pre-order from Amazon here: https://www.amazon.com/Bleak-Empty-Sea-Tristram-Mystery/dp/1893035735/ref=sr_1_1?s=books&ie=UTF8&qid=1503328086&sr=1-1&keywords=Bleak+and+Empty+Sea
Pre-order from Barnes and Noble here: https://www.barnesandnoble.com/w/the-bleak-and-empty-sea-jay-ruud/1126958139?ean=9781893035737
Comments
comments
http://jayruud.com/wp-content/uploads/2017/10/IMG_9313.jpg
1512
2016
Jay Ruud
http://jayruud.com/wp-content/uploads/2014/08/JayRuud.png
Jay Ruud
2017-10-23 16:36:28
2017-10-23 16:37:53
Taziki's Mediterranean Cafe