Review No. 140: Zaxby's
3800 Dave Ward Drive
(501) 329-5000
64.0 percent finished reviewing Conway restaurants
The Situation
She Said: Feeling like a mild repast after Epiphany church services, we decided to head out west on Dave Ward to Zaxby's, a restaurant we'd never visited here or anywhere. I'm warning you, dear readers, that I'm in a very typical January state of mind when it comes to eating, so I wanted to go somewhere I could get some lean protein without mandatory carb-loading. I figured a chicken place would fit the bill, or could be made to by the sheer force of my will.
He Said: I had never heard of Zaxby's before, but that doesn't mean much. I never paid much attention to fast-food chains before starting this project, but I'm learning about them now! Zaxby's began in Statesboro, Georgia, in 1990. They opened their first location outside of Georgia in 1994 when a site opened in Bowling Green, Kentucky. They are now in 18 states, mostly in the south as far north as Indiana and west to Texas, plus, for some reason, Utah. They have some 800 restaurants across these states, mostly franchises with about 125 owned by the corporation itself. Their menu comprises chicken wings, chicken fingers, salads and sandwiches. I can usually find something at a chicken place that doesn't hit the "Danger!" level on the Fat-O-Meter, so I was a willing accomplice to She Said's plans.
Ambience:
She Said:I liked the vibe at Zaxby's right away; it's basically pub style with some Cracker Barrell thrown in, so it has a cozier feel than most fast-food restaurants, with warm colors and dark-wood accents. We got a little two-person booth with individual lamp lighting, upping the cozy factor.
He Said: Yes, it was pretty cozy. Tables are fairly close together, but the booth gave us a little island of coziness. There's a little of a sports bar feel as well, with UCA Bears uniforms framed in the entryway, and paraphernalia from Hendrix, Conway High, Fayetteville, and other school teams hanging about, and several TVs scattered about with sports-flavored programming.
Drinks
She Said: My order included a drink, and I chose unsweetened tea. The tea-side ice machine was not working, so I had to wait a bit to get ice from the space-age soda machine He Said has finally mastered. Without ice, the tea was a little strong, but later when I did add the ice, the tea calmed down and was quite tasty.
He Said: Yes, I was able to get myself a Mello Yello (they have Coke products here) from their high tech soda machine, which I'm seeing more and more these days, so I actually did finally have to master it. Maybe soon I'll be able to work my DVD player.
Food
She Said: In my effort to minimize simple carbs, I went with the traditional "wings and things" plate, which I didn't realize included Texas toast and fries, as well as five wings (boneless or traditional) and four chicken strips. I chose the "wimpy" sauce for my traditional wings and ranch dressing for dipping (warm and cool flavors to dress up my chicken). I saw the calorie count was around 1,500 calories for the platter, and when I saw the mound of fries and the toast, I could see part of that, for sure. For you, dear readers, I sampled one fry. I do love crinkly fries, and they were mildly seasoned, golden crispy on the outside and tender and flaky inside. When I feel I'm underweight, I'll be eating more of these!
I didn't think the chicken was anything special, especially in a market with a number of similar chicken joints. The wings were a little tough, and the breading was so thick, I got a couple of bites of only breading. I did like the "wimpy" sauce—no judgement, though, right?—as it had a hint of heat but didn't overwhelm the food. You can get your chicken strips with sauce, too, for extra money, but I left mine plain and dipped them in the ranch dressing. They were good, though not particularly juicy or tender. I didn't eat all of either the wings or the tenders.
Honestly, \ this is the kind of food my mind craves at times but my body just doesn't enjoy. It's filling, but I get a strange carb-drunk feel from processed food such as this. It's the nature of the fast-food beast, but I came home and planned a tiny, whole-foods supper to counteract the fast-food hangover.
He Said: I ordered the grilled chicken sandwich meal, which came with a 22-ounce soft drink and crinkle fries. This meal has 970 calories, which is not too bad for a fast-food meal. My hope was that there wouldn't be much fat: The sandwich came on a small white hamburger bun, and the grilled chicken, which was white meat roughly the size and shape of a thick hamburger, was perfectly lean. It came with tomatoes and lettuce, and a honey-mustard dressing. Now as I've said before, honey and mustard are two things that contain virtually no fat, but restaurants will often—I might say "almost always"—add mayonnaise to the mix without actually telling you, and mayonnaise is the queen mother of fatty condiments. That was probably the case here, because when I went home and looked up the nutrition figures for the Zaxby's grilled chicken sandwich, I saw that it contained 44 grams of fat. This included the potatoes, which were fried of course in some kind of oil, but many of those 44 grams must have come from the secret mayonnaise.
So 44 grams gave me 16 grams on my low-fat diet that I could spread among my meals the rest of the day. The sandwich was tasty, though not so memorable that I'm likely to be driven to come back and have another tomorrow. The crinkle-cut fries were very good, as She Said said, though I thought they could have been a little crispier. As for the free chocolate chip cookie, that was my favorite part of the meal. The cookies here aren't as large as the ones you get at, say, Subway and such places, but it was as good a cookie as you're likely to get at a fast-food place.
Service
She Said:We had delightful service from Hayden, who knows my husband from community theater. He was friendly while staffing the counter all by himself (taking orders AND calling out orders when they were ready). He was patient with us and helpful and was smiling while juggling his workload.
He Said: Yes, Hayden was really earning his bread today, juggling two jobs during a busy lunchtime. But he was quite friendly and even gave me a cookie "on the house." Don't expect that treatment for yourself. I think he was just trying to make up for the awkwardness of trying to juggle our order with delivering other people's orders.
What We Got and What We Paid: One traditional wings and things plate, including fries, toast and a drink, along with five wings and four tenders, plus one grilled chicken sandwich meal, with crinkle fries and a Mello Yello, all for $18.87. The cookie, as I said, was free.
Elapsed Time from Our Arrival to Food Arrival:9 minutes during Sunday lunch rush.
Rating:
She Said (or is it worth the weight I gained): I gained 0 pounds, friends. Remember, I didn't finish my chicken or eat my fries or toast–or eat much the rest of the day. And that is fair for this nothin-special chicken although the fries would be worth some scale recrimination. The service and ambience were very pleasant, however.
He Said: The food was decent. This is probably good as a handy place to stop if you're shopping at Walmart and it gets to be lunchtime. Also if you're coming from one of those big churches west on Dave Ward and want to grab a quick bite after Sunday services. I don't know that we're likely to be regular customers.
Is Zaxby's Good At What It's Good For? If you think crinkly fries are worth excusing other faults, then, yes, it is. As for chicken places, we've had better in Conway.
NOW AVAILABLE!!!
Jay Ruud's most recent novel, Lost in the Quagmire: The Quest of the Grail, IS NOW available. You can order your copy direct from the publisher (Encircle Press) at http://encirclepub.com/product/lost-in-the-quagmire/You can also order an electronic version from Smashwords at https://www.smashwords.com/books/view/814922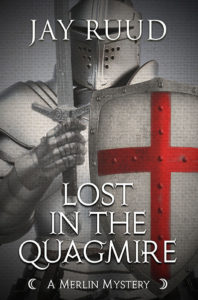 When Sir Galahad arrives in Camelot to fulfill his destiny, the presence of Lancelot's illegitimate son disturbs Queen Guinevere. But the young knight's vision of the Holy Grail at Pentecost inspires the entire fellowship of the Round Table to rush off in quest of Christendom's most holy relic. But as the quest gets under way, Sir Gawain and Sir Ywain are both seriously wounded, and Sir Safer and Sir Ironside are killed by a mysterious White Knight, who claims to impose rules upon the quest. And this is just the beginning. When knight after knight turns up dead or gravely wounded, sometimes at the hands of their fellow knights, Gildas and Merlin begin to suspect some sinister force behind the Grail madness, bent on nothing less than the destruction of Arthur and his table. They begin their own quest: to find the conspirator or conspirators behind the deaths of Arthur's good knights. Is it the king's enigmatic sister Morgan la Fay? Could it be Arthur's own bastard Sir Mordred, hoping to seize the throne for himself? Or is it some darker, older grievance against the king that cries out for vengeance? Before Merlin and Gildas are through, they are destined to lose a number of close comrades, and Gildas finds himself finally forced to prove his worth as a potential knight, facing down an armed and mounted enemy with nothing less than the lives of Merlin and his master Sir Gareth at stake.
Order from Amazon here: https://www.amazon.com/Lost-Quagmire-Quest-Merlin-Mystery/dp/1948338122
Order from Barnes and Noble here: https://www.barnesandnoble.com/w/lost-in-the-quagmire-jay-ruud/1128692499?ean=9781948338127
Comments
comments
http://jayruud.com/wp-content/uploads/2019/01/IMG_0838.jpg
3024
4032
Jay Ruud
http://jayruud.com/wp-content/uploads/2014/08/JayRuud.png
Jay Ruud
2019-01-07 09:14:23
2019-01-07 09:14:23
Zaxby's