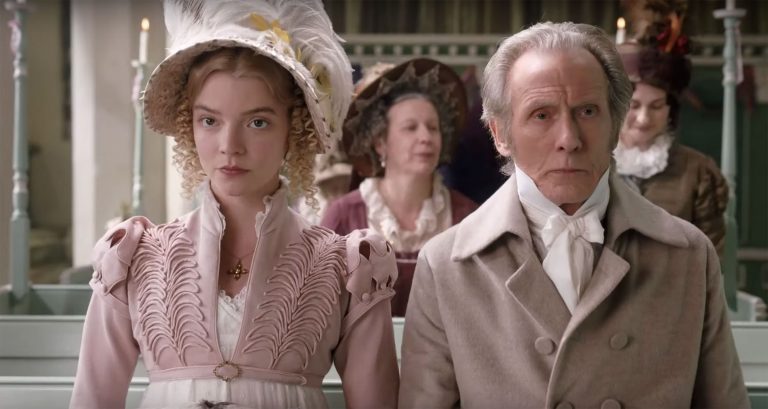 Emma.
Autumn de Wilde (2020)
When I first heard there was a new version of Emma coming out, I admit to being a little bit skeptical. Didn't we just have one of those? But that was just one of those tricks of age, in which after you turn 40 everything seems like it happened "just a couple of years ago, wasn't it?" Turns out Gwyneth Paltrow's crack at Jane Austen's clueless heroine was 24 years ago, in 1996 (two years before her Oscar-winning stab at Hamlet in Shakespeare in Love). I suppose if Little Women can be remade for every new generation, why not Emma as well, which is after all a more brilliant if less beloved novel.
The latest film iteration of Jane Austen's classic novel is directed by first-time director Autumn de Wilde. Coincidentally, the Gwyneth Paltrow Emma was also made by a first-time director, Douglas McGrath, who went on to direct Company Men, Nicholas Nickleby, and I Don't Know How She Does It. But in McGrath's case, he was coming from the world of screenwriting, and had just been nominated for an Oscar for co-writing Bullets Over Broadway with Woody Allen, and he had also written the screenplay for Emma (or I guess co-wrote it with Jane Austen). De Wilde is coming from a very successful career as a photographer and a director of music videos, so this is the first feature film she has been involved with.
Her background, though, helps to explain two of the greatest strengths of the new Emma. No doubt her background in the music industry was helpful in putting together the film's notable score. The music is composed by Isobel Waller-Bridge (who did the music for the hit TV series Fleabag, which stars her sister Phoebe Waller-Bridge) and by David Schweitzer (longtime television composer with dozens of credits, including The Crown). There is a particular theme as each new character enters the movie, though the music is never intrusive. More delightful are versions of English or Scottish folk songs, like the Watersons' version of "Country Life" or John Rutter's of "O Waly Waly," that give a flavor of the early nineteenth-century English countryside to the proceedings.
De Wilde's background in photography might also help to explain the beautiful cinematography  and art direction of the film. Along with her cinematographer Christopher Blauvelt (Low Down), production designer Kave Quinn (Judy, Far From the Madding Crowd) and costume designer Alexandra Byrne (Oscar winner for Elizabeth: The Golden Age), de Wilde creates beautiful vistas of aristocratic houses, quaint villages and beautiful parks and gardens with gorgeous Georgian dresses, hats and high collars. One scene, in which Emma, costumed in a dress with a leafy green print, has a significant conversation with family friend George Knightley under a flowering tree, is unforgettable for the way costume and design enhance Austen's dialogue.
The reliance on great country houses in which Emma and Mr. Knightley live to give photogenic and aristocratic beauty to Emma's milieu is, I think, one flaw in the film, however. We are apparently meant to see Emma and her father as if they are landed gentry in the vein of the Downton Abbey cast. When we first see Emma (Anya Taylor-Joy of TV's Peaky Blinders), she is making a bouquet to bring to her governess on the day of the older woman's wedding. She is not picking the flowers herself, but has servants to do that, and she simply points to which flowers she wants to include. While the scene does much to underscore the pampered and indulged existence she leads, the hordes of servants around her and around Knightley in their huge manor houses have no equivalent in Austen's novel. To be sure, we know from the beginning of the novel—and of the film, which quotes directly from the novel—that Emma is "handsome, clever, and rich," but she's not that rich. She just happens to be the queen bee in this small village. Still, I suppose if you're wanting to show a contemporary audience Emma's social superiority to those around her with a quick shorthand, that's the quickest way.
Aside from that issue, the script, written by New Zealand novelist Eleanor Catton (whose novel The Luminaries made her the youngest author ever to win the Man Booker prize in 2013) is a quite faithful adaptation of Austen's novel. In short, the story follows Emma's attempts, after successfully having matched her governess Miss Taylor (Gemma Whelan of Game of Thrones), with her neighbor Mr. Weston (Rupert Graves of TV's Sherlock), decides to turn her matchmaking skills to a bigger challenge: finding a match that will allow her orphan friend Harriet Smith (Mia Goth of Everest) to "marry up." With the blind faith that she knows better than Harriet herself what the girl needs, Emma convinces Harriet to turn down an offer of marriage from the honest farmer Robert Martin and tries to steer her toward a match with local vicar Philip Elton (Josh O'Connor from The Crown), until she realizes that Elton has designs on herself. Meanwhile Emma has designs on Mr. Weston's somewhat narcissistic son Frank Churchill (Callum Turner from Fantastic Beasts: The Crimes of Grindewald), who is a bit of a flirtatious cad but stands to inherit a huge estate from his uncle. And Knightley (Johnny Flynn from Beast) seems to be most interested in Jane Fairfax (Amber Anderson of White Lie), the poor but accomplished niece of villagers Miss and Mrs. Bates, who dote on her. Yet there seems to be a clear bond between Emma and old family friend Knightley, who bestows on her the familiar and sometimes unwelcome paternal guidance of a big brother.
If you can't tell how these complications untie themselves I won't spoil it for you. Let me just say that Taylor-Joy, in the title role, seemed to me at first too immature for the part, but then I had to remind myself that Emma in the novel is not yet 21 years old. Taylor-Joy was 23 when filming this movie—the same age that Paltrow was for the 1996 version. Paltrow, however, seemed more poised in the role, and played Emma as someone who seemed to be motivated chiefly by sincerely wanting to help her friends. Taylor-Joy seems more of the spoiled rich girl whose machinations are motivated more by her desire to exercise her own powers of manipulation and her enjoyment in having Harriet as a kind of loyal serf. As that serf, Goth is appropriately insecure, and wholly sympathetic. Flynn, better known as a musician (his recording of his original song "Queen Bee" plays over the credits at the end of the film and was released as a single alongside the movie), does a competent job, though he may lack the gravitas that Jeremy Northam brought to the role in 1996. He plays Knightley somewhat more emotionally than Austen's text suggests, and whether that comes from him, de Wilde, or Catton's script is hard to say, but it does bring more sexuality to the performance—at least my wife thought so, and so may you. He does get a nice duet with Anderson's Jane Fairfax at the piano (of "Drink To Me Only With Thine Eyes") that adds to the folksy delights of the soundtrack. As Churchill, Turner comes across as more likable than you might expect. As Jane Fairfax, Anderson is quite restrained, a kind of ice queen, though there are hints of some great passion buried inside. Deep, deep inside.
But in terms of memorable performances, it is Bill Nighy (Love Actually), as Emma's hypochondriacal father who feels a draft in every corner of the house and barricades himself behind screens, and Miranda Hart (of TV's Call the Midwife) as the annoyingly chattering Miss Bates who becomes the brunt of Emma's unthinking cruel humor, who absolutely steal the show. These two performances in relatively minor roles lift the film into the "must see" category.
So, despite a few quibbles about what the film has done with the setting and a few of the characters, on the whole this is a worthy adaptation of a great novel. Three Tennysons and half a Shakespeare for this one.
NOW AVAILABLE:
"The Knight of the Cart," fifth novel in my Merlin Mysteries series, is now available from the publisher, Encircle Publishing, at https://encirclepub.com/product/theknightofthecart/
You can also order from Amazon at
https://www.amazon.com/Knight-Cart-MERLIN-MYS…/…/ref=sr_1_1…
OR an electronic version from Barnes and Noble at
https://www.barnesandnoble.com/w/the-knight-of-…/1133349679…
Here's what the book is about:
The embittered Sir Meliagaunt is overlooked by King Arthur when a group of new knights, including Gildas of Cornwall, are appointed to the Round Table. In an ill-conceived attempt to catch Arthur's notice, Meliagaunt kidnaps Queen Guinevere and much of her household from a spring picnic and carries them off to his fortified castle of Gorre, hoping to force one of Arthur's greatest knights to fight him in order to rescue the queen. Sir Lancelot follows the kidnappers, and when his horse is shot from under him, he risks his reputation when he pursues them in a cart used for transporting prisoners. But after Meliagaunt accuses the queen of adultery and demands a trial by combat to prove his charge, Lancelot, too, disappears, and Merlin and the newly-knighted Sir Gildas are called into action to find Lancelot and bring him back to Camelot in time to save the queen from the stake. Now Gildas finds himself locked in a life-and-death battle to save Lancelot and the young girl Guinevere has chosen for his bride.
Comments
comments
http://jayruud.com/wp-content/uploads/2020/03/emma-768x409.jpg
409
768
Jay Ruud
http://jayruud.com/wp-content/uploads/2014/08/JayRuud.png
Jay Ruud
2020-03-10 18:21:17
2020-03-10 18:21:17
Emma.