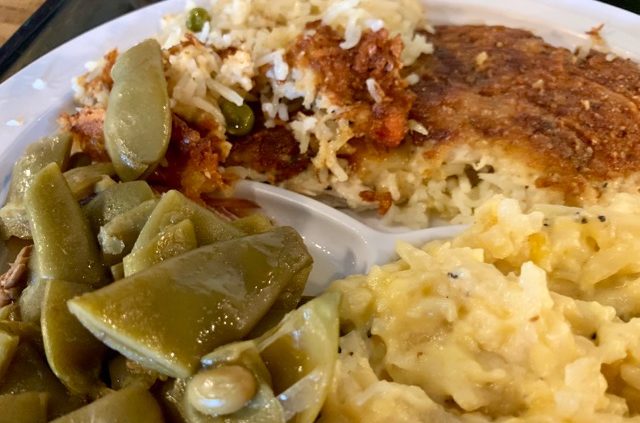 Review No. 164: The Hole in the Wall Cafe
1016 Markham Street
(501) 205-1325
73.5 percent finished reviewing Conway restaurants
The Situation
She Said: We were looking for some southern cooking for my Missouri-native mother during the waning weeks of her annual Arkansas visit from South Dakota. Of course, we knew this was the opportunity we'd been waiting for to try The Hole in the Wall Café.
He Said: Yes, we'd never actually eaten here for a regular meal, having been acquainted with it when the Conway Dinner Theater used to perform here when it was the Old Gin. But those meals were not the everyday restaurant meals now available at this Hole in the Wall.
Ambience:
She Said: The foyer is quaint and welcoming with chalkboard signage, and friendly patrons as they leave (one man told us, "Food's very good here!" as we walked in). Staff members are friendly, as well, although the space is rather cavernous and lunch-roomy—which I guess is fitting for a cafeteria-style restaurant. There's a large television high up on the wall that may have been showing sports-ball (I didn't pay attention to it). There doesn't seem to be much noise-abatement for the hard surfaces. Overall, I didn't find the space as "down home" as the food.
He Said: It was, it's true, kind of a big almost barn-sized space, and it's true, it was none too quiet, but on the whole I didn't find it uncomfortable.
Drinks
She Said: I enjoyed some unsweetened iced tea with lots of ice. It was tasty, and not too strong, and didn't keep me awake at night, so I give it an A+.
He Said: It's been a few days, but I think I had a Mountain Dew. It was a fountain drink and this would mean that they have Pepsi products here. But I'm willing to be corrected if I'm remembering wrong. I do enjoy a good Dew though.
Food
She Said: We visited for lunch on a fried-chicken day, and that was by design: I lovefried chicken, and it's not a treat I often allow myself for obvious reasons (and when I calculated my macros after lunch, I saw I blew ALL of my daily fat grams on the chicken alone). I also enjoyed the dinner roll I chose over the corn bread, and ate it up very quickly, before I even finished the first chicken leg. Entrée decided, my next choice was for two of the sides on offer, which were more varied. Already high on fat, I went for the carbs (and fat) of mashed potatoes with a little bit of gravy and the macaroni and cheese. The potatoes were very creamy, and while I only wanted a bit of gravy because I was afraid it would be too peppery, it was rich and satisfying without too much of that bully spice. The macaroni and cheese reminded me of my mom's, which is a compliment, but it wasn't as good, so I went lightly on that, because I also ordered dessert.
The desserts confront you before you see the sides on the cafeteria line, and I was breaking a fast, so I was pretty hungry and unable to resist. The lemon ice box pie looked light and summery (and had a chill name). It was very good, only slightly too sweet, cool and lemony. I loved every bite, but I still shared some with my Mom.
He Said: I had a Chicken Parmesan lunch plate with sides of hashbrown casserole and green beans, with a dinner roll (as opposed to cornbread, which was the other choice), and a brownie-like piece of cake with a thin fudge and pecan frosting.
The menu did list a grilled chicken breast, but when I asked about it I was told they were out, but I could wait 15 minutes for them to make one. Since I didn't want to make everyone else wait, I opted for the chicken parmesan, and in doing so almost certainly raised my fat intake by a few dozen grams, so not the greatest move health-wise. On the other hand, the chicken parmesan was really, really good. If you like chicken and you like cheese, you will really like this entrée. The hashbrown casserole was also good, and also cheesy. Both dishes reminded me of Cracker Barrel—same kind of down-home cheesy American dishes—but more authentic and home-made. The beans were all right, though I didn't find them unusually good. They may even have been from a can. They also had bacon in them, which most people would probably like. For me, of course, trying to cut down on the fat intake, it wasn't the best scenario, so I ate around the bacon.
The dinner roll was, I believe, also home-made, and it was warm and quite tasty. Considering the kind of place this is, I wouldn't be surprised if the corn bread was just as good. As for the chocolate cake, it was the last piece they had (all other desserts were various kinds of cheesecake or creamy pies), and I had the (probably false) impression that the cake would have a little less fat. It was a pretty run-of-the mill cake/brownie bar, not bad but nothing to write home about.
Service
She Said: This is a cafeteria lunch spot, so you go to the start of the line to get your tray, plate, silverware and napkins, and then head down the line to make your selections. The offerings are written on boards behind the counter as well as presented to diners behind the glass so you can see what you are getting. Everyone was very helpful, friendly and efficient. We also had several staffers come to our table to make sure we didn't want to-go drinks and to take dishes when we were finished with them. This upped the friendly quotient.
He Said: Yeah, what She Said said. It's basically a cafeteria, but the folks here are friendly and they check on you.
What My Mom Thought: Mother had fried chicken with two sides, but skipped the bread option. She thought the food was very good southern food, that filled her up because she ate it all.
What We Got and What We Paid: Three lunch plates which included two sides, two desserts and three fountain drinks for $36.45 (for three adult people).
Elapsed Time from Our Arrival to Food Arrival: 4 minutes.
Rating:
She Said: This southern cafeteria lunch place in Conway is the real deal, fast, friendly and serves delicious food.
He Said: For real southern cooking that's got some good old-time flavor, it's hard to beat The Hole in the Wall.
Is The Hole in the Wall Cafe good at what it's good for? Stop in for yummy, down-home Southern fare and enjoy dessert, as well!
NOW AVAILABLE!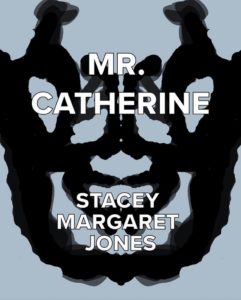 Stacey Margaret Jones's novel, Mr. Catherine, is available online from the following sellers (ebook only through June 24, ebook and paperback as of June 25, 2019): Amazon, Barnes & Noble, Google Play and Apple Books.
Where is Catherine? Catherine has gone missing, a year after confessing to having an affair. Her husband, a marriage and family therapist, hides her infidelity from the police to protect her reputation—and to shelter his pride.
As the secrets begin to pile up, Mr. Catherine, the unnamed husband of the missing woman, is plunged into a world of underground dealings, kidnappers, ex-lovers and drug running in Little Rock, Arkansas, all while grappling with his part in the highs and lows of the life they led together.
With each passing day, a sleepless Mr. Catherine grows more frantic, drinking and popping pills, which stir up painful visions and remembrances that hold a mirror up to the narrator as he comes to terms with his own emotional betrayals.
Mr. Catherine is a fast-paced domestic noir that explores the dangerous secrets between a husband and a wife, as well as a deeper meditation on marriage, connection and honesty.
Comments
comments
http://jayruud.com/wp-content/uploads/2019/07/IMG_6390.jpg
467
640
Jay Ruud
http://jayruud.com/wp-content/uploads/2014/08/JayRuud.png
Jay Ruud
2019-07-15 16:06:32
2019-07-15 16:06:32
Hole in the Wall Cafe