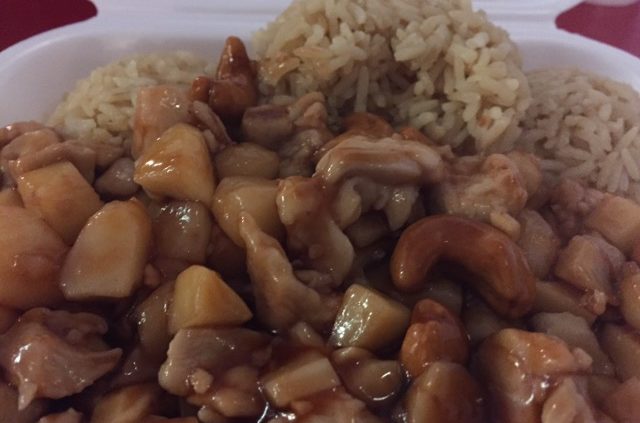 No. 9: Jade China
559 Harkrider Street
(501) 329-5121
5.9 percent done reviewing Conway restaurants
The Situation
He Said: I've lived in Conway for 13 years and, to be honest, I've never noticed Jade China. It's a small, unassuming (and green) building on Harkrider next to Bank of the Ozarks, so I assume I'm always too caught up in the traffic and busy-ness of Harkrider to have seen it. But there it is, and it's been there for some time—since at least 2000, when, according to the signs posted on the wall, it won the "People's Choice" award as the best Chinese restaurant in Central Arkansas. An award that it apparently also won in 2001, 2002, 2003, 2004, 2005, and 2006. After that it either stopped winning the award, or (as seems likely) they ran out of wall space in the restaurant.
She Said: I've noticed it! That color building is definitely unusual, but for some reason, we've never stopped in before. We've bounced among various Chinese-food venues in Conway over the years as they open and close. One of our lovely readers, Brianna Hamby, suggested we review Jade China, and I thought it was a good opportunity to try a new (to us) place. Just like last week, we went after yoga to try this spot for our review project. We were relaxed…but hungry!
Ambiance
He Said: The restaurant itself is very small. There are eight tables and booths, and other than the "People's Choice" awards along one wall, there is virtually nothing to spruce it up except a few Chinese looking trinkets on the far wall. Clearly Jade China depends on take-out for most of its business, and they see no need to make the place comfortable for those who eat in. It's noisy and actually rather unpleasant in the place.
She Said: Yes. You forgot to mention all the signs on the wall, including the menu and the sign noting they "close the lobby at 8:30 p.m.," even though they are open until 9 in the evening. It seems almost more like a food truck than a restaurant in there, and, because it was a hot day, it was hot in there, so it felt like the discomfort of the food-truck experience in many ways: I've got this food, but no where pleasant to eat it. When we arrived, I noticed that every single person coming out of Jade China was carrying to-go bags, and I had been told most people pick up their food, so I wasn't sure what to expect, but even then I was disappointed. I mean, they ask you if you are eating in or taking away when you order at the counter (no menus, just signs), but even then they don't bring you the food on plates: It came to the table in to-go boxes. Seriously. With plastic cutlery. Once I finished, I was so eager to leave—there was a small child yelling at a man waiting to order—I thought I might head out on my own, leaving you, Ruud, to your own slow-eating devices.
Drinks
He Said: The usual fountain kinds of drinks. I had a Dr. Pepper. No root beer or Mountain Dew available, either of which I would have preferred.
She Said: I had unsweet iced tea. They provide free refills, which I got to go.
Food
He Said: I had an appetizer, which turned out to be a single fried egg roll. The fried aspect was a bit of a risk with my low-fat diet, but I thought one wouldn't send me to the hospital. I had a little sweet-and-sour sauce with it, and I do think that the egg roll would have been worth the price of admission. Of course, I could not make a meal of that, but Jade China does have a wide-ranging menu with a number of vegetarian and low-fat choices, so it was not difficult to find something that looked good. I had the chicken vegetable dish, with brown rice. The vegetables included broccoli, water chestnuts, cabbage, and onions, which I had with soy sauce. The dish was good, though there was nothing surprising about it. Was it the worthy of best Chinese food place in central Arkansas for (at least) seven years in a row? I guess it depends on the competition. There aren't a lot of Chinese restaurants in Conway, anyway. And it's not bad, though I'm not going to be craving it any time soon. One thing is certain: there was a lot of it. I had enough food for dinner and for a full lunch the following day. And it was inexpensive.
She Said: I wanted to try more than one dish, too, so I started with the crab Rangoon, crab and cream-cheese deep-fried dough pockets. There were four in my order, and they were deeply fried. Deeply. But they were pretty tasty, and as I wrote this paragraph, I remembered I had one left in the fridge, and I just went and ate it.
I saw there were several tasty-looking tofu dishes in the vegetarian section, but it had been a long time since I had eaten my favorite Chinese entrée, cashew chicken. Honestly, I think the ordering situation (at the counter, no individual menus) contributed to my not really taking advantage of a lot of the different menu items they list. This cashew chicken was, like your entrée, Ruud, good, but nothing special. It certainly was nothing like the incredibly fresh and delicious plate of cashew chicken we ate at that little hole-in-the-wall restaurant in Beijing just outside the Forbidden City, where it tasted like they had just picked the veggies out of a smog-protected garden in the back. This had a lot of chicken and cashews, definitely, but the other ingredients didn't taste especially fresh, as they were somewhat overwhelmed by the sauce, which was yummy, but oppressive. There was A LOT of it, which I brought home. I could probably make four more meals of it, but I think I'll get tired of it before then.
Service
He Said: There isn't a whole lot to say about service in a place where you order at the counter, except to say that they were courteous and helpful enough when we ordered. One fairly significant irritation is the sign that said you could not use credit cards or debit cards. That policy seems bizarrely behind the times. Who carries cash these days? Let alone a checkbook, which, strangely, would have been more acceptable than a card. We were told—politely, I suppose—that there was an ATM next door (at the Bank of the Ozarks building). And so that is where we got the cash. Not exactly big on customer service here. I will say, though, that when I asked for a refill on the Dr. Pepper, the server behind the counter was quite willing to give me one.
She Said: They were very friendly and helpful, definitely, but the service model is not my favorite. It's all rather predicated on the idea that if you go there, you've been there before and know exactly what you want and what to do, though when they could tell we were newbies, they were helpful. One thing I didn't love was that they brought the food when it was ready, so I got my "appetizer" well after my cashew chicken. But again, if you are taking the food away, this wouldn't matter (s they act like it doesn't matter if you are dining in). They really put very little, except a smile, into having customers eat in the restaurant.
What We Got and What We Paid: An eggroll, crab Rangoon, chicken and vegetables, cashew chicken, Root Beer and an unsweet iced tea for $23.24
Rating:
He Said: If you want a genuine Chinese meal and like a wide choice at a reasonable price, you could do a lot worse than Jade China. But trust me, get the food as take-out. And bring cash.
She Said: You could probably do worse than Jade China, but the ambiance is so unpleasant, I recommend that if you order from there, make someone else go pick it up.
So…He Said and She Said: If you already have a favorite Chinese restaurant, there's no reason to change, but if you want to try Jade China, bring cash and take away the food.
Comments
comments
http://jayruud.com/wp-content/uploads/2016/07/FullSizeRender.jpg
465
640
Jay Ruud
http://jayruud.com/wp-content/uploads/2014/08/JayRuud.png
Jay Ruud
2016-07-09 20:54:04
2016-07-09 20:54:11
Jade China