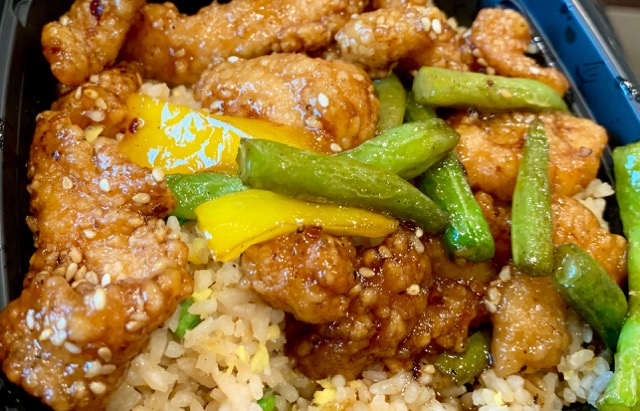 Review No. 181: Panda Express
811 East Oak Street
(501) 358-3082
82.1 percent finished reviewing Conway restaurants
The Situation
He Said: If this looks a little familiar, it may be because last week we reviewed "Panda Wok." This week it's Panda Express.Which is in fact our third Chinese restaurant in a row. This is one of the problems with getting to be low on our unreviewed restaurants list. But Panda Express, recently opened in Conway, is a different kind of animal.
Panda Express is part of the Panda Restaurant Group, founded by Andrew and Peggy Tsiang Cherng and Andrew's father, Master Chef Ming-Tsai Cherng. The first Panda Inn restaurant opened in Pasadena, California, in 1973, and as of 2017 there were more than 2,000 locations in the United States, making it the country's largest Chinese fast-food restaurant chain. One of the company's corporate values is giving back to the communities in which their stores are located, as well as a consciousness of our environmental crisis and a determination to lessen their own carbon footprint. They promise to be a good neighbor in the Conway community. Let's hope that continues to be the case.
She Said: Yes, we're getting far enough into this project, that most of our yet-to-be-reviewed restaurants in Conway are chain stores, for which we've already done at least one, but I was excited to try out this new place, as we've watched its progress over the months of construction. We decided to drop in for lunch on a weekday and arrived right around noon.
Ambience:
He Said: As you come in there's a line for you to choose and pick up your food. You can choose to get the food to go or dine in. You can also go through a drive-through. When you first get in line, there is a TV that gives you instructions on how to order: You can order a bowl, which gives you one entrée and one side; a plate, which give you two entrees and a side; or a large plate, which gives you two entrees and two sides. So if this is the first time you are there, you might be unclear on how to order, but the TV helps, and you'll be a whiz at it the second time you come.
The seating area itself is relatively small. It's new and bright and clean, with a TV tuned to a sports channel perched atop the far wall. There are several small booths around the perimeter of the room and two long tables in the middle, I suppose for large parties, though it seemed more likely to me that people were going to end up sitting with other people they didn't know because they were forced to sit here when all else was full. But that's just a little introvert phobia—probably won't bother youat all. Move on, nothing to see here.
She Said: It's clearly a fast-food restaurant, although a little shinier and brighter because it's brand new. It's also very efficient. When you walk in, the ordering gauntlet is right there, and the rest of the space is devoted to the smallish-seating area.
Drinks:
He Said: They are some soft drinks in containers on ice as you move through, with Coke in bottles. There were also fountain drinks with Coke products. I had a Barq's Root Beer from the fountain, which was a welcome sight.
She Said: I tried an unsweetened fruit tea that was very nice and made a tasty change from my usual unsweet tea. It went better with the food than soda would, I think.
Food:
He Said: The menu was not extensive for a Chinese place, probably a necessity for a fast food joint that needs to have things ready on demand. Most entrees were chicken dishes, but there were a few beef ones and a shrimp option. I had a bowl with Honey Sesame Chicken and Fried Rice. We also ordered a couple of extras: spring rolls which come two to an order, and chicken egg roll, which was fairly large and was fried. Plus She Said talked me into getting a chocolate chip cookie so that she could have a bite.
The chicken entrée was tender with a crispy outside, and the sesame and honey were flavorful but pretty subtle. One could probably say that, compared with a couple of the other Chinese places in town, this was a bit bland. The fried rice was not bad, and contained peas and other vegetables that gave it some flavor. The egg roll was OK as well—nothing to write home about, but certainly tasty enough. The cookie was fine, soft and chocolatey, though a bit generic. I've certainly had better chocolate chip cookies, even, as this one was, out of a cellophane wrapper. My favorite part of the meal was actually the vegetable spring roll which was surprisingly flavorful and fresh tasting.
The advantage of eating at a large chain is that nutrition facts for everything you eat are readily available online So after the fact I looked up what I had eaten: the honey sesame chicken contains 490 calories and 22 grams of fat—by itself not too bad. However, the fried rice had 520 calories (!) and 16 grams of fat, the egg roll 200 more calories and 10 more grams of fat, the spring roll 95 calories and only 4 grams of fat, and the cookie 160 calories and 7 grams of fat. This gave me a grand total of 1465 calories and 59 grams of fat. This, by the way, is about what I should have for an entire day—so if I didn't eat anything other than lunch, I'd be fine. The moral, I guess, is that I ought to have looked up nutrition figures before eating. Also, for you, dear readers, pay attention at any fast food place to what kind of nutrition you're getting here.
She Said: I really dithered about what to order because the shrimp sounded healthy and lean, and with the walnuts in the dish, I figured it would be something new to me, but at the last minute, I switched to the kung pao chicken, which is fried chicken bites with peanuts and a somewhat hot chili sauce. I also chose fried rice for my side (which in a bowl is really just the foundation for the entrée on top). The chicken was good, not too spicy, but it definitely had a little kick. I thought the fried rice was a bit bland, but it also tasted rather fresh and light. I too really liked the vegetable spring roll and will definitely order that again.
Overall, I found the food to be less rich and interesting that traditional American Chinese restaurants in Conway, but at the same time, I am really happy there's a drive-through, single-serving Chinese restaurant here, where I can get just a helping of Chinese food, instead of the big family-size dishes we get in our usual haunts.
Service:
He Said: Things are pretty hectic here around lunchtime, and the place is still new so the servers aren't completely familiar with everything yet. But really the service here was quite good, friendly and speedy. No complaints here.
She Said: Service was very efficient and friendly. We were glad we arrived just ahead of the lunch rush, as there was a line out the door not long after we sat down. The staff kept everything friendly and moving along. This is the kind of place where every time someone enters, workers call out a friendly welcome.
What We Got and What We Paid: One bowl honey sesame chicken and fried rice, one bowl kung pao chicken and fried rice, one order of spring rolls (2), one chicken egg roll, one cookie, and two small drinks, all for $15.34, but note this was the cost with a "buy one bowl, get one free" coupon. So add another $6.40 if you don't have a coupon.
Elapsed Time from Our Arrival to Food Arrival: 6 minutes.
Rating:
He Said: For fast food that's a little change from burgers or tacos or fried chicken, this is a good alternative. Still, it's fast food.
She Said: I can tell I'll rely on this place for a drive-up food option that's different, with some light and tasty options.
Is Panda Express good at what it's good for? If you want single-serving, fast food Chinese that's a little lighter and healthier—and if you like the one or two dishes on their smaller menu—Panda Express is for you!
NOW AVAILABLE!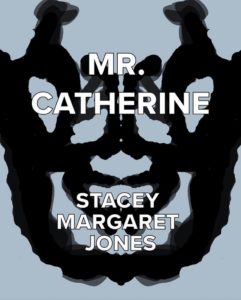 Stacey Margaret Jones's novel, Mr. Catherine, is available online from the following sellers (ebook only through June 24, ebook and paperback as of June 25, 2019): Amazon, Barnes & Noble, Google Play and Apple Books.
Where is Catherine? Catherine has gone missing, a year after confessing to having an affair. Her husband, a marriage and family therapist, hides her infidelity from the police to protect her reputation—and to shelter his pride.
As the secrets begin to pile up, Mr. Catherine, the unnamed husband of the missing woman, is plunged into a world of underground dealings, kidnappers, ex-lovers and drug running in Little Rock, Arkansas, all while grappling with his part in the highs and lows of the life they led together.
With each passing day, a sleepless Mr. Catherine grows more frantic, drinking and popping pills, which stir up painful visions and remembrances that hold a mirror up to the narrator as he comes to terms with his own emotional betrayals.
Mr. Catherine is a fast-paced domestic noir that explores the dangerous secrets between a husband and a wife, as well as a deeper meditation on marriage, connection and honesty.
Comments
comments
http://jayruud.com/wp-content/uploads/2019/11/IMG_1204.jpg
411
640
Jay Ruud
http://jayruud.com/wp-content/uploads/2014/08/JayRuud.png
Jay Ruud
2019-11-25 11:52:31
2019-11-25 11:52:31
Panda Express