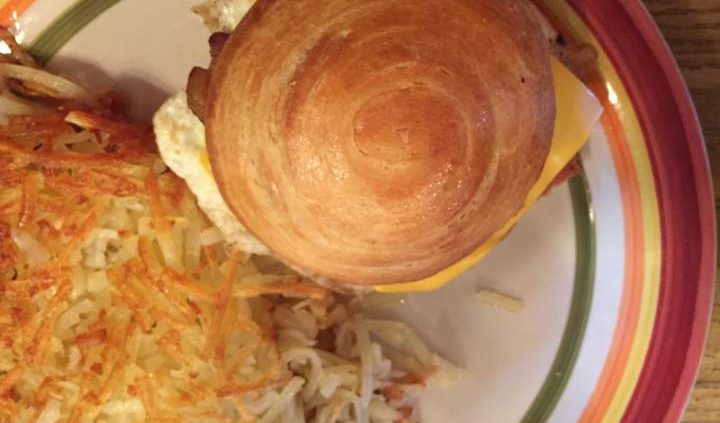 Review No. 31: The Patio Café
1156 Front Street
(501) 358-3556
19.2 percent of Conway restaurants reviewed
The Situation
She Said: I was on a doctor-ordered exercise break for several days, which meant my mornings were freed up somewhat, and I was upset about not getting to go running or to Jazzercise. So, I wanted to "eat my feelings" and go out for breakfast. I'd been to the Patio Café just a few times since this eatery had become its current iteration (I frequented Something Brewing in the olden days before a Starbucks located itself seven tenths of a mile from our house), but never for anything more than a latte or cappuccino.
He Said: I, on the other hand, had never been here, at least not since it was Something Brewing, and since I'm not a big coffee drinker I didn't really care about it. I had low expectations when we entered, since I thought of it still as a coffee place, which was a complete misconception as it turns out. I also expected there to be a bunch of college kids in the place, since it is so close to Hendrix. But we did come for breakfast during finals week, so I supposed all the kids were studying. Or something. So it was a lot of retired folks or people stopping for a quick bite before heading to work. Late.
Ambiance
She Said: I would say, Ruud, that it was more of a diverse group of people, which was great! And I just loved the feel of the place! I'll admit we thought about pushing this review back until we could enjoy the patio of the café's name, as it is really pretty and expansive, but I've enjoyed it before, so I wanted an interior experience, too. I had such a feeling of nostalgia, as we sat down at a table of our choosing, for the expat coffee houses I used to go to in Prague. A dark color on the walls, local artists' work displayed for sale, a piano, board games, all of the usual suspects that invite patrons to stay and enjoy awhile. I felt just like doing that.
He Said: It was a pleasant space (but yes, I would have liked to sit on the patio, probably with a dog if that were possible! Maybe sometime in the spring…) But I did like the art on the walls. Again I thought, maybe it's art by students. But maybe not. Anyway, it seemed to be for sale, so I'm assuming the collection rotates as paintings get sold. But it's cozy and comfortable, though not incredibly roomy, in the dining area, and there is even a small fireplace there to make it especially cozy in the winter.
Drinks
She Said: I usually choose a soy latte at Sbucks, but I do love a well-made cappuccino, so I ordered a medium. It was lovely in presentation in a tall, blue-green mug, with the beautiful sight of the milk frothed and whipped with faint hints of coffee-brown. And it was incredibly tasty. The coffee itself was rich and delicious, with the perfect mix of milk. I even used my spoon to eat the last of the froth when I finished the drink. This may be the best cappuccino I've had in Conway! And lest you think that is damning with faint praise, I assure you, I've had very worthy coffee drinks in our fair city.
He Said: I had a nice glass of fresh Orange Juice and a cup of Earl Grey tea (there was a fairly interesting menu of teas as well as coffees, but I went with an old standby).
Food
She Said: The food menu here is rather complete, and that's when I realized it isn't just a "third space" with limited nibbles to sell. It was difficult for me to choose my breakfast, as two of my go-to items were both listed: Eggs Benedict and the ever-pleasing breakfast sandwich on a croissant. I went with the latter, because I can rarely resist anything on a croissant. You can have your sammy with one egg or two (I went with one) and your choice of cheese from a list of five or six, I selected American. The sandwich comes with golden hash-browns, as well, and when our waitress set that plate of beauty in front of me, I knew I had chosen well. The croissant is made to be ideal for a sandwich, as it is round, rather than elongated with a thicker middle, and aside from being a buttery-flavored bread product, it makes it so much easier to eat the sandwich without making a mess and getting out my knife and fork. This was truly a shining example of a breakfast sandwich, and not only do I recommend it to you, I've been secretly plotting my return to eat one again ever since I tasted the first bite.
The hash-browns were also perfectly executed, with the beautiful browned top that was crispy, with that softer, salty, fried potato goodness underneath. I left nothing on my plate. Nothing.
He Said: There is a veggie omelet on the menu, and they were happy to make it with egg whites, so I was able to get a relatively low-fat breakfast, made with two egg whites, vegetables, and no cheese since they made it exactly as I ordered. They also would have brought me a fruit plate in lieu of hash-browns, so I could have had an almost completely fat-free breakfast, but I figured I was being really good with my omelet and, darn it, I had a taste for hash-browns.
The vegetarian omelet was low fat but actually delicious. It may have been the best egg-white omelet I've had anywhere. Next time I'm definitely getting three eggs. I suspect that one of the reasons it was so good is that they used a lot of oil in the making of it, which probably added some fat to it. But it was really good, as were the hash-browns—just as I anticipated—but also fried with a good deal of oil. I suppose if I'm being sensible, I'll probably need to get the fruit cup next time, since the oil and the hash-browns probably did put me over my fat allotment for the morning.
Service
She Said: I thought our service was perfect. When I had been here before, probably when it was Something Brewing and/or when I had a coffee on the patio (or the "lanai," as I like to say), I remember ordering at the counter, but on this trip, we sat and were served at the table. YES! I really like to just take a seat when I go out to eat to take my time, perusing the menu and talking it over; ordering from a queue usually makes me a little panicky because I don't want to hold anyone up behind me while I make up my mind. Also, I should note that there are signs in the entry and in the dining room that the Patio Café makes each dish fresh and to order, so it can take awhile to get your plate, and in busier times of the day, that may mean up to 30 minutes or so. Once we saw this, we were fine with waiting, and it was worth it, because we got exactly what we wanted. Also, our drinks did come rather quickly, so no one (me) died of caffeine-depletion while waiting for our food. Our waitress was very helpful, answering our questions with a cheerful, friendly attitude, just the sunny disposition one wants in the morning. She checked on us at a helpful, but not annoying, rate, and brought the check quickly when we were ready to go.
He Said: All this is true, Jones. There was a bit of a wait for the food, but the signs were a god touch. They warned you what you were getting into, and told you the reason for it And one of the reasons the food is so good is that they do not produce dozens of orders in advance in an assembly line process. Even with the wait, it was still under half an hour. And the server had no problem with my high-maintenance special order.
What We Got and What We Paid: Breakfast sandwich (1 egg) with hash-browns, veggie and egg-white omelet (2 eggs) also with hash-browns, medium cappuccino, Earl Grey tea and orange juice for $25.40.
Rating:
She Said: Absolutely delicious breakfast with which to treat yourself to a cozy dine-in (or a sunny dine-out) experience when you have a little extra time to enjoy all this café has to offer.
He Said: I look forward to coming here again for brunch. Maybe I'll bring a good book to peruse in case it's a busy time of day and Jones has her nose buried in her iPhone.
So…He Said and She Said: You should be eating breakfast here, even if your breakfast is just a cappuccino to go.
Comments
comments
http://jayruud.com/wp-content/uploads/2016/12/15420767_313683579031474_4652221746386467828_n.jpg
960
720
Jay Ruud
http://jayruud.com/wp-content/uploads/2014/08/JayRuud.png
Jay Ruud
2016-12-12 10:23:50
2016-12-12 10:27:00
Patio Cafe