Review No. 128: Poke Hula
1115 West Oak Street
(501) 505-8300
58.1 percent finished reviewing Conway restaurants
The Situation
He Said:This Hawaiian eatery is one of the newer restaurants in Conway, though it's not especially new to central Arkansas: There are three locations in Little Rock, and Conwegians familiar with those Little Rock restaurants were excited about having one in our own back yard.
Poke is a traditional native Hawaiian dish generally made of diced raw fish. Poke Hula allows you to choose from raw fish like tuna or salmon, or from a few nonfish items like chicken (cooked) and tofu. You can order your food in-store or there is an option for you to order online as well.
She Said: I've had poke bowls a couple of times before, so I was looking forward to this light, fresh lunch during a busy week. It's like a sushi roll in a bowl, and at Poke Hula, you can pick everything that goes inside that delicious dish.
Ambience:
He Said: This place is small but cozy. There are only a few tables, though there are a lot of seats along a counter that runs along the outside walls of the restaurant. Some walls are brick and the other walls are a kind of autumn russet color.
We tried to get here early for lunch, thinking there might be a crowd. We were not surprised to be right. There were several tables occupied and a bit of a line when we got there before noon, but the line moved fast and many of the customers were getting their lunches to go, so we had no problem finding a seat.
She Said: It's bright and sunny, with a whole wall of windows that bathe the dining area in natural light. The brick and orange set a warm tone. It was definitely an appealing space.
Drinks
He Said:The posted menu read "bottled soda, $1.75," so I asked for a bottled soda and was told they didn't have any. So I asked about the sign. Apparently, they don't have a cooler yet in which to keep the sodas, so I had to go with a Dr. Pepper fountain drink. Which was fine.
She Said:I too fell for the menu and asked for bottled water, but Poke Hula offers complementary water, so that's what I had, and it was free.
Food
He Said: I didn't really know what to expect here, since Poke was not a food I'd been introduced to even when we were in Hawaii. But the way things were set up here made ordering a smooth and easy process. I had a build-my-own Poke bowl, with brown rice, chicken and tofu and some "Aloha sauce" (a kind of extra-strength soy sauce). For my added vegetables I chose edamame, green onions, cherry tomatoes, and pineapple—which is, all right, not a vegetable but it's in that category on their sign. I also had a sesame sauce and some sesame seeds on top. It was a fresh, flavorful and healthy dish. The pineapple and chicken made it taste really Hawaiian, and the rice and soy sauce, with the edamame as a complement, make this a terrifically tasty lunch option.
She Said: I chose the half-and-half base and picked brown rice and kale noodles. With the regular bowl, you can choose two proteins, so I had salmon, which is sushi-like and uncooked, and shrimp, which is cooked. For my "veggies," I had carrots, edamame, cucumbers and mangos (in this category, you can have as many items from the list as you like). I also had the seaweed salad and avocado, which cost extra. For the dressing I had ponzu sauce and finally, I topped it off with sesame seeds. The kale noodles were tasty and a nice (I'm assuming) lower-carb option for a base, though I wish they offered quinoa as an option. They didn't skimp on the salmon and shrimp, so I didn't have the issue I often have with salads, which is that I've eaten the protein out of it quickly, before I'm full, and left with the boring bits. The carrots were not slices, but zoodles, which made them easy to mix with the other ingredients, and the seaweed salad was itself a little gem of deliciousness on top. The entire concoction was absolutely delicious and very filling—I could only eat half of it but took the leftovers home for later because I wanted to leave nothing.
All the ingredients were individually fresh and flavorful and the mix of tastes and textures I could create for myself was truly a joy of whole-foods, healthy eating.
Service
He Said:Ordering food here is essentially like ordering at Subway. A sign on the wall informs you the order in which to create your own poke bowl, starting with the base, which might be white rice, brown rice, kale noodles, a combination of greens, etc. Then you pick a protein, which might be one kind of raw fish or shrimp or octopus or chicken or tofu. Then you pick vegetables to go in, and a sauce and topping. There were two servers, both of whom were quite helpful and friendly. And when you pay, there is a place on the sales slip that allows you to add a tip, which of course I did. These people don't make much money, folks.
She Said:I had questions about my process as I built my bowl, and each person was friendly and helpful. The restaurant had a relaxed and friendly vibe overall, and the servers were definitely part of that.
What We Got and What We Paid: Two regular "Build Your Own Pokes," and one fountain Dr. Pepper and a free glass of water, all for $25.28.
Elapsed Time from Our Arrival to Food Arrival: 7 minutes.
Rating
He Said: A healthy and tasty, and also pretty quick, option for lunch, especially if you happen to be downtown at lunchtime.
She Said (Or Was It Worth the Weight I Gained): I did not gain any weight, but for all the tastes in my build-my-own bowl, I'd have been willing to. Poke Hula demonstrates that fresh food, simply prepared, can be delicious—and good for you.
Is Poke-Hula Good at What it's Good For? The fast and easy healthy, customizable quick-serve food is delicious, and easy to take away but also provides a pleasant environment for eating in.
COMING SOON!
Jay Ruud's most recent novel, Lost in the Quagmire: The Quest of the Grail, will be available from the publisher on OCTOBER 15. You can preorder your copy direct from the publisher (Encircle Press) at http://encirclepub.com/product/lost-in-the-quagmire/You can also order an electronic version from Smashwords at https://www.smashwords.com/books/view/814922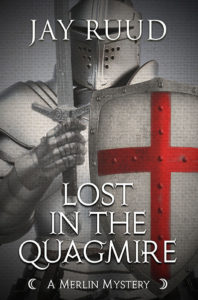 When Sir Galahad arrives in Camelot to fulfill his destiny, the presence of Lancelot's illegitimate son disturbs Queen Guinevere. But the young knight's vision of the Holy Grail at Pentecost inspires the entire fellowship of the Round Table to rush off in quest of Christendom's most holy relic. But as the quest gets under way, Sir Gawain and Sir Ywain are both seriously wounded, and Sir Safer and Sir Ironside are killed by a mysterious White Knight, who claims to impose rules upon the quest. And this is just the beginning. When knight after knight turns up dead or gravely wounded, sometimes at the hands of their fellow knights, Gildas and Merlin begin to suspect some sinister force behind the Grail madness, bent on nothing less than the destruction of Arthur and his table. They begin their own quest: to find the conspirator or conspirators behind the deaths of Arthur's good knights. Is it the king's enigmatic sister Morgan la Fay? Could it be Arthur's own bastard Sir Mordred, hoping to seize the throne for himself? Or is it some darker, older grievance against the king that cries out for vengeance? Before Merlin and Gildas are through, they are destined to lose a number of close comrades, and Gildas finds himself finally forced to prove his worth as a potential knight, facing down an armed and mounted enemy with nothing less than the lives of Merlin and his master Sir Gareth at stake.
Pre-Order from Amazon here: https://www.amazon.com/Lost-Quagmire-Quest-Merlin-Mystery/dp/1948338122
Pre-Order from Barnes and Noble here: https://www.barnesandnoble.com/w/lost-in-the-quagmire-jay-ruud/1128692499?ean=9781948338127
Comments
comments
http://jayruud.com/wp-content/uploads/2018/09/IMG_6512.jpg
2682
3606
Jay Ruud
http://jayruud.com/wp-content/uploads/2014/08/JayRuud.png
Jay Ruud
2018-10-01 07:47:07
2018-10-01 07:47:07
Poke Hula