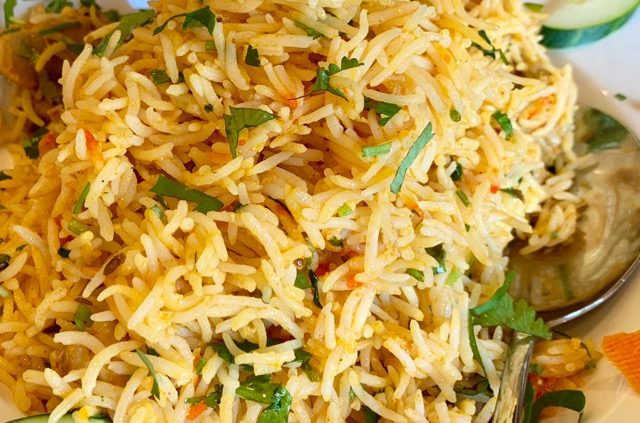 Review No. 160: Taj Majal Indian Kitchen
2850 Prince Street
(501) 712-5772
73.6 percent finished reviewing Conway restaurants
The Situation
He Said: So there's a new Indian restaurant in Conway—and just to make it easy for you, it's in the same location as the old Indian restaurant in Conway. The Tour of India, which was at this Prince Street location for about two years, closed rather abruptly quite recently (I understand they have since reopened in Little Rock under the name Mehfil) and Taj Mahal, a Little Rock staple for the past ten years, decided to expand into the Conway market. The Little Rock food blog The Mighty Rib quotes restaurant owner Mahek Shah as saying "Conway is an emerging market …. In the last two years, the food scene has spiced up dramatically. There is more of a demand for Indian food all over the nation and that is also true for Conway." http://themightyrib.com/taj-mahal-announces-conway-location/The new restaurant opened just about two weeks ago, and we were eager to see what was on offer.
She Said:I was eager for a healthy and interesting lunch after a late workout, and as I had seen friends checking in here on social media, I was ready to try Taj Mahal out. One reason I hadn't frequented Tour of India for lunch was because they only offered the buffet (no menu selection) for the midday meal, so I quickly checked out Taj Mahal's Website to confirm that indeed, you could order your own choice at either meal, not just at dinner. We arrived around 1:30 p.m. mid-week.
Ambience:
He Said: It's simple, clean, and elegant looking inside. Things look quite new, and there are very simple decorations on the walls. There is a buffet in one room, and there are two bars, but no alcohol. I assume they are still waiting for a license to serve. Since we did not arrive until about 1:30 p.m. for lunch, there were very few other customers in the place. They do seem to have caught the central Arkansas restaurant obsession with air conditioning that compels eating establishments to try to get the temperature down to 60 degrees in the summer, so you might want to bring a sweater just in case.
She Said: It's clean and open, though not particularly cozy, though I liked the HGTV shows on the television in the room where we were seated. The bars may be temporary or permanent placeholders, and they hint at a convivial future.
Drinks
He Said:They have Coke products here, hence, Sprite.
She Said:Diet Coke.
Food
He Said:Well, we had She Said's mother with us, and she opted to try the buffet, so in the interests of coverage, I decided to order off the menu. Several things looked enticing, but ultimately I decided to try the Chicken Biryani. If (like me) you're not hipped to the Indian food scene, biryani is a mixed rice dish popular in the subcontinent. It is made up of rice with Indian spices, boiled eggs and some form of meat, and it often includes yoghurt, vegetables and/or dried fruit.
I didn't notice any dried fruit or yoghurt, and few vegetables, in the dish, but there was plenty of egg and chicken, and the rice was tasty. Never a fan of really spicy-hot food, I ordered my dish extra mild on the spices, but after having it that way, I figured I could probably go up a notch on the spice level next time I'm here. Having it my way made it a little bland.
I also made the mistake of ordering a side dish of steamed vegetables. It was a mistake not because the vegetables weren't very good, but because the biryani rice appeared like the Mount Everest of rice dishes. There was a mountain of it there. The vegetables, fresh and wholesome steamed cauliflower, carrots, beans, broccoli, etc., were fine, and I ate them a few at a time in with the rice dish, but I had to take half of them home in a box, with half of my biryani. But it did give me a tasty lunch the next day.
She Said: I had planned, after perusing the online menu, to try the Aloo Gobi, cauliflower and potatoes in creamy onion sauce, but when I arrived and looked more closely at the menu, I was drawn to the shrimp in mango sauce. Of course, it goes without saying that I was having an order of the garlic naan, too. The naan was delicious—the order includes two large pieces—garlicky, but not overwhelming, or offensive to others (I hope). I could have eaten 10 more pieces, and I hope to soon. The shrimp comes with a side of saffron rice, and is plentiful, with many large shrimp in the fruity, but not overly sweet sauce, which I also chose to have very mild. I made sure to eat all the shrimp and watched my rice consumption because of the naan obsession I was indulging that meal, and it was all so good. When I left, I was already planning when I could return, and, like He Said, I'll go up a tiny notch on the heat-o-meter, but it was not bland in any way, was nicely satisfying but not overly filling. A perfect meal!
My 93-Year-Old Mom says: I had the buffet. It turned out pretty good, though I didn't know what I was eating! The waiter was very nice and paid attention to what we needed. I would go back again if I were looking for something different.
Service
He Said: Our server was a very competent young man in white shirt and black tie. It gives the impression that this is a classy place, not a down-home café. Service was speedy, friendly and professional, and the server was helpful in answering questions about the menu.
She Said:Yes, we thought the service was impeccable and added to our enjoyment of our visit.
What We Got and What We Paid: One Taj lunch buffet, one Garlic Naan, one Mango Shrimp (very mild), one Chicken Biryani (very mild), one steamed vegetables, one Diet Coke, one Sprite, all for $55.84 (for three people).
Elapsed Time from Our Arrival to Food Arrival: 10 minutes from arrival to sitting down to buffet food, 19 minutes until arrival of ordered entrees.
Rating:
He Said: Lots of choices here and don't be afraid to have a little spice.
She Said: Delicious and fresh food from a wide variety of menu offerings.
Is Taj Majal  good at what it's good for? Absolutely! Great service of delicious food with lots of choices or a nice buffet to enjoy many specialties of the house.
Comments
comments
http://jayruud.com/wp-content/uploads/2019/06/IMG_5845.jpg
472
640
Jay Ruud
http://jayruud.com/wp-content/uploads/2014/08/JayRuud.png
Jay Ruud
2019-06-17 14:16:59
2019-06-17 14:16:59
Taj Majal Indian Kitchen