Review No. 139: Lenny's Grill and Subs
2501 Dave Ward Drive
(501) 205-1404
63.5 percent finished reviewing Conway restaurants
The Situation
She Said: After a challenging ballet lesson, I was looking for healthy sustenance, and I know that sub shops often have good salad options, so I suggested we roll up on the relatively new Lenny's location in Conway and feed our faces.
He Said: Lenny's is a chain that focuses on salads, sandwiches, subs and Philadelphia-style cheesesteaks (the menu item that sets them apart from other sub-shops in the area). But contrary to expectations, the franchise is based in Memphis, not Philly, and since their debut in 1998 has expanded to about 150 locations all in the southeastern United States. Their motto is "Everyone deserves great food," and our mission today was to see whether they delivered on that promise.
Ambience:
She Said:It's a fast-food restaurant, and feels that way, though it's comfortable to dine in and has a lot of natural light from the window-wall in the front. It took us a bit to find a clean table, though. The clerks were friendly, not only to us, but to each other, giving our experience a chill and relaxed vibe.
He Said: Yes, it was bright and pretty comfortable. It's not a huge place so it doesn't feel like you've been warehoused as you eat.
Drinks
She Said: I didn't see the fountain drinks, so I grabbed a bottle of Dasani water from the cooler by the counter. I like Dasani water, so it was fine.
He Said: I saw the fountain drinks but was glad they also had soda in cans, and had one. It was a Coke.
Food
She Said: One thing I like that Lenny's offers is its tuna or chicken salad on a green salad instead of on a bun or bread, and that sounded like a good compromise on healthy versus indulgence to me, so I chose chicken salad salad without the tomatoes or peppers, and I asked for the blue cheese dressing because it was the offering that went best, I thought, with a chicken salad on a bed of dark greens. The dressing came on the side of the disposable plastic bowl, and I was glad of it, however it's delivered, since the scales fell from my eyes last week at Newk's on dressing calorie counts.
I found the chicken salad tasty, the right consistency of meat, mixed with dressing and possibly even nuts (almonds?). The salad was all spinach, which is yummy, but it also gets boring. The salad included cucumbers, which were crisp and not at all bitter. This item is only 200 calories, but can be more than doubled if you use all the dressing (I used about a teaspoon). It was filling, and made a tasty, satisfying, post-work-out lunch.
He Said: To really do a sound review of Lenny's one should probably have one of the cheesesteaks that are their unique contribution to Conway cuisine. But I was wary about having one, since most of them looked to go a bit too far on the fatty side for my low-fat pancreatic needs.
So I focused on the 5-inch mile-high turkey sandwich, which consisted of turkey and provolone on your choice of white or multi-grain bread. You can choose what you want on it, but they have a recommended combination that includes onions, pickles, vinegar, and a few other trimmings including mayonnaise. I told them to hold the mayonnaise and replace it with honey-mustard, and asked for it on the multi-grain bread. According to the nutrition chart online for Lenny's, the sandwich without the trimmings contains only 3 grams of fat, though the mayonnaise probably increases that exponentially. There is no fat in honey or mustard, but restaurants will often mix mayonnaise in a honey-mustard dressing and thereby sneak in huge amounts of fat when there is no need for it. Lenny's apparently does something like this, since the nutrition chart says this added 10 grams of fat to my sandwich. Next time I will get plain yellow mustard, which will add only a single gram of fat.
They did make the mistake of bringing me the sandwich on white bread which wasn't terrific but I didn't send it back—generally you want lunch in a hurry and don't have time for those kinds of shenanigans. I do have to say though, that this sandwich was absolutely delicious: having the special recommended trimmings really livened it up, and I would definitely have it again: the turkey was tender and the added ingredients were tangy and gave it a real zing. It would have been even better on the whole grain bread—and with the yellow mustard, which would have made it even healthier. Next time.
And then, of course I had to have a chocolate chip cookie, strictly for the sake of you, dear readers, since I knew you'd probably want to hear about it. I can report that the chocolate chip cookies here are chewy, chock full of chocolate, and very satisfying—though pretty similar to the cookies you can get at most other subway ships around town. Also, they contain 15 grams of fat—bringing my total for the meal up to 28 grams, still relatively healthy considering it's a meal out.
Service
She Said:The woman at the counter was very friendly and patient, and I enjoyed her service because it was sincere and personable. For an eat-in "fast food" lunch, I did think the food took longer than I expected to deliver, but it wasn't so long that I checked on it… but long enough that I thoughtabout checking on it.
He Said: Extremely friendly service, it's true. They did make a mistake on the bread, but I didn't feel the wait time was too bad. What's your hurry, Jones?
What We Got and What We Paid: One chicken salad salad, one bottle of water, one mile high turkey sandwich, one chocolate chip cookie, and one can of Coke, all for $20.02.
Elapsed Time from Our Arrival to Food Arrival:10 minutes
Rating:
She Said (or is it worth the weight I gained): I gained 1 pound, but I did have a healthy (not big, not small) dinner that night, and I wouldn't say Lenny's was worth a pound, since the point of my choices was to minimize weight gain whilst still being tasty and filling. It was tasty and filling, and I will stop at Lenny's for this meal again.
He Said: A great sandwich. I don't know about the rest of their food here, but I felt good about what I had.
Is Lenny's Good At What It's Good For? We think so! Tasty sandwiches and salads to eat in or take-away, served by friendly, happy people.
NOW AVAILABLE!!!
Jay Ruud's most recent novel, Lost in the Quagmire: The Quest of the Grail, IS NOW available. You can order your copy direct from the publisher (Encircle Press) at http://encirclepub.com/product/lost-in-the-quagmire/You can also order an electronic version from Smashwords at https://www.smashwords.com/books/view/814922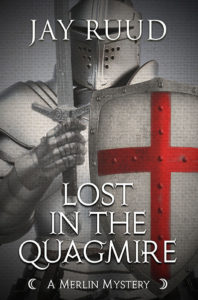 When Sir Galahad arrives in Camelot to fulfill his destiny, the presence of Lancelot's illegitimate son disturbs Queen Guinevere. But the young knight's vision of the Holy Grail at Pentecost inspires the entire fellowship of the Round Table to rush off in quest of Christendom's most holy relic. But as the quest gets under way, Sir Gawain and Sir Ywain are both seriously wounded, and Sir Safer and Sir Ironside are killed by a mysterious White Knight, who claims to impose rules upon the quest. And this is just the beginning. When knight after knight turns up dead or gravely wounded, sometimes at the hands of their fellow knights, Gildas and Merlin begin to suspect some sinister force behind the Grail madness, bent on nothing less than the destruction of Arthur and his table. They begin their own quest: to find the conspirator or conspirators behind the deaths of Arthur's good knights. Is it the king's enigmatic sister Morgan la Fay? Could it be Arthur's own bastard Sir Mordred, hoping to seize the throne for himself? Or is it some darker, older grievance against the king that cries out for vengeance? Before Merlin and Gildas are through, they are destined to lose a number of close comrades, and Gildas finds himself finally forced to prove his worth as a potential knight, facing down an armed and mounted enemy with nothing less than the lives of Merlin and his master Sir Gareth at stake.
Order from Amazon here: https://www.amazon.com/Lost-Quagmire-Quest-Merlin-Mystery/dp/1948338122
Order from Barnes and Noble here: https://www.barnesandnoble.com/w/lost-in-the-quagmire-jay-ruud/1128692499?ean=9781948338127
Comments
comments
http://jayruud.com/wp-content/uploads/2018/12/IMG_0184.jpg
2320
3371
Jay Ruud
http://jayruud.com/wp-content/uploads/2014/08/JayRuud.png
Jay Ruud
2018-12-17 14:11:11
2018-12-17 15:50:26
Lenny's Grill and Subs